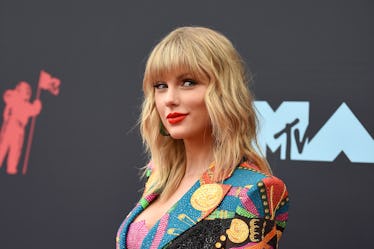 13 Times Taylor Swift's 'Lover' Lyrics Got Relationships Right
Dimitrios Kambouris/Getty Images Entertainment/Getty Images
Taylor Swift released her seventh album on Aug. 23, which means any Swiftie you meet will probably (understandably) be all up in their feels. Just like in her last six albums, Taylor Swift's Lover lyrics about relationships are spot-on. From the head-rush of a crush and the nerves of a new love, the security and warmth of a healthy, long-term relationship, and the wistfulness of a messy breakup, Lover blends all the best elements of Swift ⁠— both musically and lyrically.
On Lover, Swift gives us the passion of Fearless, the introspection of Red, the carefree vibes of 1989, and the edginess of reputation. The songs are set in high-school hallways, hospital rooms, board rooms, sprawling New York City, and rainy London. It's so rich with storytelling, it's like watching a movie. TBH, it'll probably be my soundtrack for the rest of the year, and, admittedly, it makes for some quality, go-to Instagram caption inspo.
Of course, when it comes to the romantic bits of Lover, there are loads of clues to examine. What songs are about Swift's current boyfriend, Joe Alwyn? Is "Lover" about Tom Hiddleston, Calvin Harris, or OG Swift ex, Joe Jonas? Either way, there's so much emotional depth to Swift's songs that you don't need to have dated a British movie star or a high-profile DJ to relate. As always, Swift is great at capturing all the trials and tribulations of what it means to be human, and what it means to love.
Next to "Me!" and "The Archer," here are 12 songs on Lover that get super real about relationships.