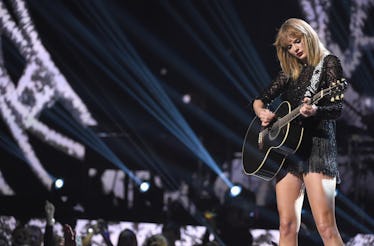 Taylor Swift's "Getaway Car" Calls Out An Ex-Boyfriend & It's So, So Savage
Kevin Winter/Getty Images Entertainment/Getty Images
Taylor Swift's album Reputation dropped late on Nov. 9, and for any fan who has religiously followed her music, they already know T-Swift is notorious for framing a song or two around an ex. The girl is the queen of a musical clap back. So, the question on many of our minds just so happens to be, is "Getaway Car" about Tom Hiddleston?
Tom Hiddleston, also known as the actor who plays Loki in Thor and one of the internet's biggest crushes, was Taylor Swift's most recent breakup (as far as we know). Things ended in 2016, which definitely leaves fans to believe that the breakup happened early enough to give her enough time to make an entire song about the relationship, right? We all know T-Swift doesn't hold back. Because she doesn't blatantly tell you who her lyrics are about, everyone put on their best Sherlock Holmes hats and started deciphering and searching for clues about "Getaway Car." We must get to the bottom of this.
Don't be quick to discredit fans and their theories, because even though many of them have never met Taylor Swift personally, her music tells her story and they have surely read and listened to every lyric with the intention of understanding her. From the drama with Kanye West, to the untimely end to her relationships, T-Swift lets her music speak louder and more concise than any interview she could ever give, in my opinion.
So, let's dive into those "Getaway Car" lyrics, shall we? Most notably, T-Swift takes a jab at how things started with this mystery person (cough, cough, Tom) with her chorus lyrics, that read,
Think about the place where you first met me / In the getaway car / No they never get far / No, nothing good starts in a getaway car
Damn, Tay, how'd this relationship start?!
Well, this could totally be referring to the 2016 Met Gala, where Taylor Swift and Tom Hiddleston were seen dancing and mingling, having a jolly good time. Taylor Swift and Calvin Harris were together at the time, but he wasn't at the event. In other words, is T-Swift referring to the idea that they met and hit if off, all while she was still in a relationship?
The entire concept of a getaway car, driving away from the scene of a "crime," is super metaphorical. Think about it — maybe by hopping in the "getaway car," Tay potentially meant she was getting away from someone and moving on to something or someone else? It seems that T-Swift does hint about a love triangle in her verse,
Well he was running after us, I was screaming "go go go"/ But with three of us, honey it's a side show/ And a circus ain't a love story and now we're both sorry / We're both sorry
I'm not sure if you remember, but once T-Swift and Calvin Harris ended things, all hell broke loose. The lyrics may potentially reflect this, although we don't know for sure, but fans are convinced that this song could also be about another one of Taylor Swift's beaus, Joe Alwyn.
One person tweeted, "I feel like joe is taylors getaway car and she wrote it during the first few months of her being under the radar."
That's another potentially valid theory, since Joe and Taylor Swift did sort of run off together. And, just like you wouldn't broadcast that you've robbed a bank, T-Swift kept her getaway partner under lock and key.
For now, the song has everyone wondering who on Earth Taylor Swift could be talking about. And yet, no matter how hard any of us might think we've cracked it down, we won't have full closure unless our girl T-Swift decides to tell us herself. In other words, we might be screwed.