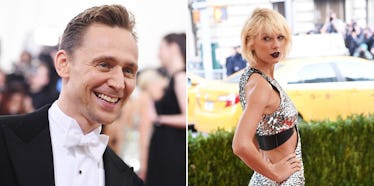 This Dance-Off Between Taylor Swift And Tom Hiddleston Won The Met Gala
REX/Shutterstock
Taylor Swift and Tom Hiddleston had an epic dance battle at the Met Gala on Monday night, bringing us all one step closer to figuring out what the heck celebrities actually do at the Met Gala.
God bless the person who filmed it and posted it on Instagram, because it is truly one of the best things I've seen all week.
The 26-year-old pop star and 35-year-old star of "The Avengers" took their dance challenge very seriously. They diligently pulled out their best moves for rapper TI's classic from 2004, "Bring Em Out."
And bring them out they did, especially Hiddles, who seems to be doing some sort of squatting robot. Who knew Loki had that swagger?
Tay, on the other hand, stuck to the classic putting your hands up in the air and waving them like you just don't care.
I'm just saying, I think Marvel should take notes. Taylor Swift would make a great addition to the Avengers. Can you imagine waiting through the Marvel credits and then just seeing this video as the post-credits scene?
I know somewhere out there TI is very proud of Taylor Swift and Tom Hiddleston. They really brought 'em out.
Citations: 'He's debonair, detached, charming': Tom Hiddleston is typically handsome in smart photoshoot... as he praises James Bond amid rumours of taking on the role (Daily Mail), Taylor Swift Had a Super Glam Dance-Off with Tom Hiddleston at the Met Gala (PEOPLE)