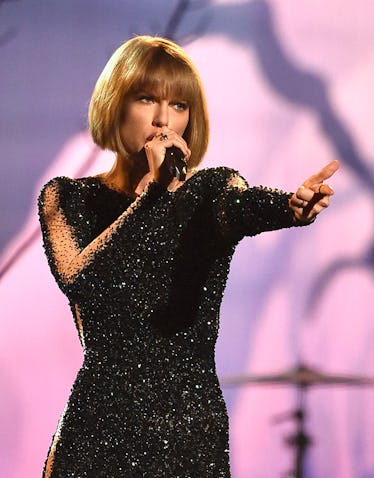 Taylor Swift's 'Reputation' Album Got Leaked & Fans Are Losing It On Twitter
Kevork Djansezian/Getty Images Entertainment/Getty Images
Taylor Swift's Reputation drops Nov. 10, but guess what? The new album has already leaked and fans are understandably feeling some kind of way. Check out the tweets about Taylor Swift's Reputation leak and see what everyone's saying.
Elite Daily reached out to Swift's team for comment, but did not hear back at time of publication.
Most fans, understandably, are feeling pretty hurt that someone would leak Reputation. Others fully expected it. Still others aren't feeling the least bit of remorse that Swift's album leaked and have already listened and weighed in on the album.
One person tweeted: "so i am currently jamming to taylor swift reputation album leak." Shaking my head.
Other fans were conflicted, with one tweeting: "I have never listened to a Taylor album leak in my 8 years and 4 releases. I. am just staring. I feel guilty."
Still another tweeted: "i don't know if i should listen to the reputation leak or not, i already preordered it but i know i will feel guilty if i listened and taylor wouldn't like it uhm decisions." Seriously, listen to the little voice inside your head.
As you'd expect, some heated debates swirled, with one person arguing: "You think Taylor is going to thank you? You think she's going to pay omage to your integrity and invite you to come to her house to talk sh*t about her fake stans who listened to the leak? LOL y'all are both arrogant AND delusional." Yikes.
What about respect, some wanted to know, with one fan tweeting: "out of respect for Taylor i would never even dream of leaking it, no need to leak an artists work whenever its released worldwide at midnight."
One fan noted: "Swifties are dedicated fans, we would like to wait until the album officially releases to hear the album. We respect Taylor."
Another fan noted that, really, there's not much of a wait left until the album drops, so why bother with a leak now?
Others called to protect Swift's hard work, with one fan tweeting: "Taylor didn't work 3 long years on #reputation just for some people to leak it when we're so close to its realease! DON'T LEAK THE ALBUM AND DON'T WATCH OR LISTEN TO ANY LEAKED STUFF!! THANKS #protectreputation."
Another added: "Please delete it. Taylor worked hard for it. If you are really a fan, you should respect her decision and never do anything disappoint her."
Still another fan tweeted: "To the Taylor Swift 'fans' trying to leak #Reputation stop and think: Why are you going to ruin her chance of getting amazing sales? If you love her so much don't do it. So disrespectful."
Another fan tweeted this explanation for why they chose to listen to the leak:
Others admitted that they just couldn't help themselves, with one fan tweeting: "OMG IM LISTENING TO THE REPUTATION LEAK IM SORRY TAYLOR BUT I COULDNT HELP IT IVE BEEN WAITING FOR THIS MOMENT FOR THREE DAMN YEARSHJEZKHERKH."
It's a rough go for Swift fans, with one tweeting how hurtful a leak is: "I Respect Taylor And What She Wants More Than Anything And These People Don't Even Care About What She Wants They Just Go Around And Leak The Whole Freaking Album."
Some fans just weren't having it. At. All. One fan explained it like this: "Let me get one thing straight. Anyone who PURPOSELY listened to a leak is a FAKE fan. Taylor would not want you to do that. You waited 3 years so what's the big deal about a few more hours? EVERY SINGLE ONE OF YOU ARE BEING BLOCKED."
Respect.
So... to listen or not to listen to the Reputation leak. Which did you choose?
Check out the entire Gen Why series and other videos on Facebook and the Bustle app across Apple TV, Roku, and Amazon Fire TV.