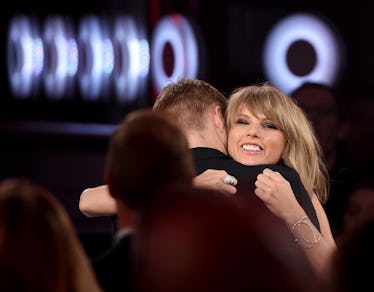 Calvin Harris Should Definitely Not Listen To Taylor Swift's "Getaway Car" Because OMG
Ethan Miller/Getty Images Entertainment/Getty Images
Taylor Swift just released her long-awaited sixth studio album, Reputation, and fans are already trying to decipher the meaning behind each song. Swift is known for writing catchy love songs about her old flames, but the "call out" came to an all-time high after she released the controversial music video for "Look What You Made Me Do." The first song to be released off the album, it subtly called out some of the singer's ex-lovers and haters. While the album was just released, fan are already wondering, is "Getaway Car" about Calvin Harris?
Harris and Swift, who broke up in July 2016, have had quite the public parting. Shortly after their breakup, Swift's representatives confirmed that Swift contributed to Harris' summer hit, "This is What You Came For," with vocals featuring Rihanna. This confession prompted Harris to diss Swift on Twitter, saying, "Hurtful to me at this point that her and her team would go so far out of their way to try and make ME look bad at this stage. I wrote the music, produced the song, arranged it and cut the vocals though. And initially she wanted it kept secret, hence the pseudonym."
The pseudonym he's referring to was Nils Sjöberg, the name Swift used to credit her contribution to the song and featured on a gravestone in her "Look What You Made Me Do" music video, clearly outing Harris.
All that to say, the lyrics in "Getaway Car" point towards Harris. For example, "He poisoned the well, every man for himself ... We were jet set Bonnie and Clyde, 'til it switched to the other side. It's no surprise I turned you in, 'cause us traitors never win."
There is a clear theme of "running away," in the song, as referenced with Bonnie and Clyde and the lyrics "great escape with a prison break." The most obvious connection though is when Swift says, "It's no surprise I turned you in," possibly admitting in an obvious way that she outed Harris for the song, calling herself a "traitor."
It also could be interpreted that Swift "switched to the other side" after she and Harris broke up, while the pair originally wrote the song together in secret while they were still dating.
If this song is indeed about Harris, it might reveal some big secrets about their relationship and their decision to break up. The progression of the song starts out with the two of them simulating Bonnie and Clyde in a getaway car, but then transitions to Swift getting away from him. She sings, "I'm in a getaway car, I left you in a motel bar, put the money in a bag, and I stole the keys. That was the last time you ever saw me." This might be telling us that Swift broke things off with Harris in an abrupt way, and the two have yet to see each other since.
Towards the end of the song, Swift sings, "Nothing good starts in a getaway car," revealing that their relationship was doomed from the start and wasn't going to last.
Swift is the queen of outing her ex-lovers in her subtle songwriting, so nobody would be surprised if this song is about Harris. There's speculation that her song, "Call it What You Want" is about her current boyfriend and actor, Joe Alywn, who she has been maintaining a low-profile relationship with since May.
Swift has been doing a ton of promo for this album, releasing her track list for the album on Instagram on Wednesday, Nov. 8, just days before the drop. If we know anything about Swift's track record with music, we know that no matter how much hate or drama surrounds her, her albums always climb the charts and get stuck in everyone's heads at the end of the day.