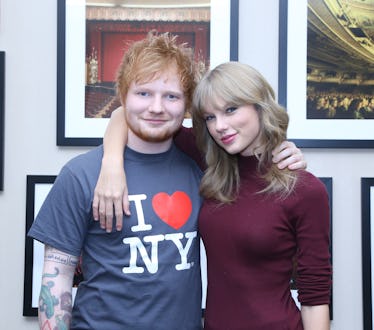 Ed Sheeran Shares What He Really Thinks About Taylor Swift's Boyfriend Joe Alwyn
Anna Webber/Getty Images Entertainment/Getty Images
There's literally nothing better than a glowing endorsement from your bestie about the guy you're dating... and in the case of Taylor Swift's BF Joe Alwyn, he just got a serious seal of approval. Are Taylor Swift and Joe Alwyn still dating? Sheeran's recent comments about how great Swift's guy is and all of the references in her "...Ready For It?" music video could mean he's a keeper.
With Sheeran's ties to Swift, it's not entirely unlikely that he's going to be asked about her personal life, but much to my surprise, he not only answered a question about Alwyn, but he also piled on the praise.
When asked about Alwyn on the Capitol Breakfast radio show, Sheeran said: "He's really nice. Really, really friendly, really good dude."
And Sheeran has done more than just casually meet Swift's boyfriend — he shared that the three of them have hung out together, explaining, "We're in touch, quite a fair bit, you know, and she's been in London quite a bit as well."
OK, so it's not like he's going on endlessly about Alwyn and what he's like or how he and Swift are soul mates or anything, but it's nice to hear that Sheeran, who is in the Swift inner circle, is commenting on her relationship at all.
And speaking of that inner circle, you just know that Sheeran has heard Swift's new album, Reputation, out Nov. 10. He kept fairly mum on any details about that, however, giving absolutely no hints for the fans, which I can live with. But don'tcha just wish he'd spill a little bit more?
Sheeran noted: "Yeah, I think the songs are great, I think the visuals, she's really putting everything into the visuals as well, the visuals are really impressive. I think people will like the album!"
OK, I think we can all agree that we already know that we'll like the album, but the part about the visuals has got my attention. Say no more, I totally get that he's heard the whole thing and is sworn to secrecy. Respect.
But back to Taylor's dating situation... Swift and Alwyn have managed to keep their relationship pretty low profile, which isn't so easy when you're one of the most famous people on the planet. The two were confirmed to be dating in May, with a source telling People in August that they were "very happy together."
The insider added, "Her decision to keep her relationship with Joe quiet is making her happy. They have been getting to know each other slowly without any pressure."
Further, the source noted, "They seem to be on the same page. Joe is getting to know Taylor's parents and everyone likes him. He is very supportive of her work."
References to Alwyn are evident in her new video for "...Ready For It?," including graffiti spray painted behind her of both of their birth years: '89 and '91.
In other parts of the video, Chinese symbols are seen, including one that spells "Joseph," plus there's another "Joseph" seen in graffiti in the video. There's also graffiti that says "Ur gorgeous," a call out to the song "Gorgeous" on her new album, which many believe is all about Alwyn.
Swift also types the numbers '2' and '1' into a keypad in the video... Alwyn's birthday is Feb. 21. Nothing here is a coincidence.
With Sheeran's sparkling review of Swift's BF and all of her not-so-subtle video and lyrical references about her guy, does this mean they'll make things more public or continue to stay out of the spotlight? Guess we'll just have to wait and see.
Check out the entire Gen Why series and other videos on Facebook and the Bustle app across Apple TV, Roku, and Amazon Fire TV.