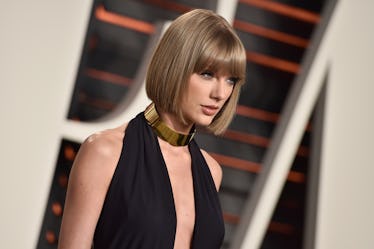 Clues From Taylor Swift's New Song "Gorgeous" That Prove It's About Joe Alwyn
Pascal Le Segretain/Getty Images Entertainment/Getty Images
The third track from Swift's Reputation album has been released and it's everything we dreamed and more. The singer announced the news about the single on Instagram on Oct. 19 — just hours before it was unleashed to the world at 12 a.m. on Oct. 20. The song "Gorgeous" joined the Reputation family and it's a little different than we originally thought. It's definitely about someone Swift thinks is "so gorgeous it actually hurts." Who is the song "Gorgeous" about? The lyrics suggest it could be about Swift's rumored boyfriend, Joe Alwyn.
The biggest hint that "Gorgeous" could be about Joe Alwyn is the line,
Ocean blue eyes looking in mine. I feel like I might sink and drown and die
JOE ALWYN DEFINITELY HAS BLUE EYES. The second indicator is,
You should take it as a compliment. That I got drunk and made fun of the way you talk.
JOE ALYWN IS ENGLISH SO SHE PROBABLY TRIED SPEAKING WITH A BRITISH ACCENT. Classic Swift. Kind of hard to deny "Gorgeous" is about Alwyn.
Swift released the news about "Gorgeous" the same way she has told fans about everything regarding Reputation — on Instagram randomly with no notice AND WE'RE NOT MAD ABOUT IT. Swift has become the queen of surprises and (besides the actual album) has dropped everything pretty much instantly. In true Swift fashion, the announcement was brief, quick, and on Instagram. Unlike Swift during this dark, shade-throwing Reputation era, the entire announcement was dripping in bright pink.
The first post announcing the news simply said "Available Everywhere." TBH, I thought it was a little misleading. It made it sound instantly available, BUT WE HAD TO WAIT LIKE 12 HOURS. You're lucky you're worth it, Tay.
The second post was a very short video. The word "Gorgeous" appeared all over the background in Gothic (I think?) text. I'm not exactly a text expert, so I'm not sure a better way to describe it. Then, a few beats hit and a small child says "Gorgeous" while the word appears in big letters across the middle of the screen.
The final post clarified everything by saying "Midnight Tonight Eastern." Thank you for a little bit of specifics, Taylor. The interesting thing about these posts is they are much brighter in color than the "LWYMMD" drop. Most of Swift's Reputation art has been black and white with a mixture of gloom-and-doom. However, it looks like "Gorgeous" is a little brighter and have that same pop sound we're used to hearing from Swift.
Before the release of "Gorgeous," there were a few popular guesses floating around over who the song would be about. First and foremost, fans thought "Gorgeous" would simply be about Taylor Swift. You know when you're just feeling yourself? "Gorgeous" would basically be Swift's ultimate ode to her inner fierceness.
Another theory is the song was going to be about Kanye West. Not that West has the word "gorgeous" trademarked or anything, but that is the name of one of his most popular songs from the album My Beautiful Dark Twisted Fantasy — one of the very few albums in music history to get a perfect five-star rating from Rolling Stone.
People think the entire album is gunning for West. Weirdly, Reputation is being released on Nov. 10, the 10-year anniversary of the day West's mother died. That would be some top level messed up sh*t, so thankfully Swift's label denied the correlation. Swift's label, Big Machine, has denied that this scheduling was intentional, saying it was just a coincidence and there's a lot of moving parts involved in scheduling the release of an album. The label said in a statement to People,
It is standard practice that releases come out on Fridays and we locked in this release date based on other Universal Music Group releases. There is no correlation.
As it turns out, "Gorgeous" is actually about a guy Swift can't get enough of. Surprise, surprise. We knew the old Taylor wasn't dead.
Overall, Swift seems like she's putting out an absolute banger of an album. Three releases down, an entire album to go. I'm ready for Reputation right meow.
Check out the entire Gen Why series and other videos on Facebook and the Bustle app across Apple TV, Roku, and Amazon Fire TV.