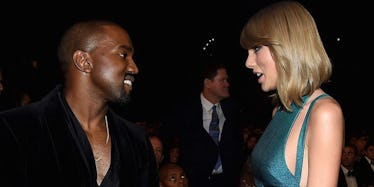 Kanye West Fans Are Fuming Over The Date Of Taylor Swift's Album Drop For This Reason
Larry Busacca/Getty Images for NARAS
The Taylor Swift-Kanye West feud is reaching a fever pitch with the release of Swift's newest single, "Look What You Made Me Do," which makes some not-so-subtle disses at West. But Swift's got a whole new album coming out, and Taylor Swift's Reputation release date is angering Kanye West fans.
There's actually a pretty legit reason for this anger -- it's not just some passive aggressive lyric that could be about anyone if you try hard enough. As it turns out, Swift's upcoming album, Reputation, is being released on Nov. 10. Now, if you're not a Kanye West mega-fan, that date might not seem especially significant.
But if you are a Kanye West mega-fan, you know just how much significance that date has. You see, Nov. 10 is the day that Kanye West's mother, Donda West, died. And it gets worse. Nov. 10 of this year is the tenth anniversary of her death, so it's really extra meaningful for West.
If you know anything about Kanye, you know that his mother is extremely important to him and that her death had a major effect on him. Donda West was a visible presence during his rise to fame in the early 2000s, always out there supporting him -- and he supported her right back. In fact, he even made the song "Hey Mama" for her, which was eventually released on his 2005 album Late Registration.
Donda West's death was sudden and unexpected. She died on Nov. 10, 2007 following cardiac complications from plastic surgery. Kanye West went on to perform "Hey Mama" in tribute to her throughout his Glow In The Dark tour. As an attendee, I can personally attest that it was an incredibly moving, quiet moment in his tour. He also performed a new version of the song at the Grammys in 2008.
Donda West continued to be a major influence on Kanye, who named his design company after her in 2012, especially as he has said he feels somewhat responsible for her death because of his move to fame. Kanye West's 2014 track "Only One," featuring Paul McCartney, is also a dedication to his mother in light of his new fatherhood to North.
With all this in mind, Kanye West fans are understandably frustrated at Taylor Swift for her album's release date.
However, some wondered if Swift chose that date on purpose or if it really was just a twisted, awful coincidence.
As with everything else related to Taylor Swift, we'll never know for sure. This is the trap that she has created for herself by making a career out of petty, passive-aggressive jabs. I can reasonably foresee Swift writing this off as yet another example of the media and the public coming after her, but sweetheart, this is the reputation you created for yourself.