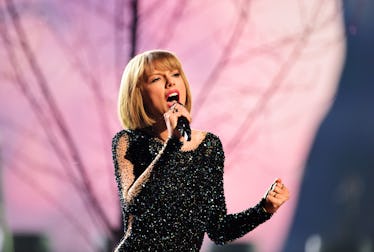 Taylor Swift Just Copied Kanye West With Her New Song, So That's Shady AF
ROBYN BECK/AFP/Getty Images
Taylor Swift just announced that she's releasing her latest single from her upcoming album, Reputation, at 12 a.m. on Oct. 20. The announcement for the new single, "Gorgeous," came in the form of three Instagram posts. One of the posts is a video clip of what the song might sound like and featured a young girl saying the word "gorgeous." We all know Swift has had major beef with Kanye West in the past, and "Look What You Made Me Do" made it clear she's not over it. So is "Gorgeous" about Kanye West? It might be, seeing as West literally has a song with the same exact name from his album My Beautiful Dark Twisted Fantasy. I'm calling shade, Taylor.
I know West doesn't own the word "gorgeous" or anything, but Swift has made it so abundantly, at times painfully and in very messed up ways, clear that she doesn't like Kim Kardashian and Kanye West. Or Katy Perry. Or John Mayer. And maybe not even Lorde anymore. The list of people Swift doesn't like is pretty long at this point. She even mentions it in "Look What You Made Me Do" when she sings "I got a list of names and yours is in red underlined." Based on this, I feel like it's safe to assume one of Swift's favorite shows is Game of Thrones and one of her favorite movies is V for Vendetta.
Anyway, no, West does not own the word "gorgeous," but it's hard to imagine that this is just a coincidence, seeing as Swift is famously meticulous about what she puts out into the world. It's a reputation she's made for herself, if you will. When I said she sometimes makes her disdain for West clear in messed up ways, I'm referring to the fact that she's releasing Reputation on the 10-year anniversary of the day West's mother died. Yeah. Swift's label, Big Machine, has denied that this scheduling was intentional, saying it was just a coincidence and there's a lot of moving parts involved in scheduling the release of an album. The label said in a statement to People,
It is standard practice that releases come out on Fridays and we locked in this release date based on other Universal Music Group releases. There is no correlation.
West's "Gorgeous" is one of the songs on his (best) album My Beautiful Dark Twisted Fantasy and features Kid Cudi.
My Beautiful Dark Twisted Fantasy in one of the very few albums in music history to get a perfect five-star rating from Rolling Stone. The Beatles' Abbey Road and Pink Floyd's Dark Side of the Moon are two other albums that have received a perfect rating from Rolling Stone. So, when Swift releases a song that has the same exact title as a song from West's highest-rated album of his entire career, people are going to notice. And it doesn't look coincidental.
When coincidences — Swift copying West in some shape or form — keep on happening, it's no longer coincidence. It looks meticulously planned and then carefully passed off as simple coincidence. But Swift can't just keep on copying other artists and expecting no one will call her out because she's, well, Taylor Swift.
West isn't the only artist Swift has been accused of copying ever since "LWYMMD" was released.
No, she has also been accused of copying Beyoncé.
The second the "Look What You Made Me Do" music video came out, people started drawing parallels between it and Beyoncé's "Formation." People said Swift copied a lot of the imagery Beyoncé employed in her visual album, Lemonade.
And just because I want to be petty right now, Swift has also been copying Beyoncé's Instagram layout ever since she started posting the weird snake videos on Instagram leading up to the "LWYMMD" release." Throughout her second pregnancy (which was during Swift's media hiatus), Beyoncé started posting three pictures at a time on Instagram, all related to each other and showcasing her stellar outfits. She's kept up this pattern of posting a row's-worth of Instas all at once, often posting a picture, then a video, then another picture. With the "Gorgeous" announcement, the "LWYMMD" snake, the "...Ready For It?" announcement, and even the clips from her new AT&T commercial, Swift has been doing the same exact thing: picture, video, picture. I'm calling major shade on this one.
When an artist with one of the largest platforms in the world seemingly copies two of the most famous people on the planet, people are going to notice. And the more these "coincidences" pop up, the more intentional they seem.