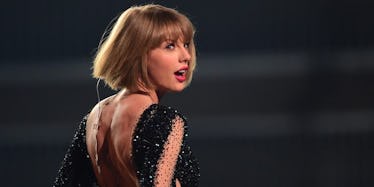 All The Ways 'Look What You Made Me Do' Copies 'Lemonade,' According To The Beyhive
ROBYN BECK/AFP/Getty Images
Taylor Swift debuted her video for "Look What You Made Me Do," and honey, it's a mess. Almost immediately, fans were saying "Look What You Made Me Do" copies Lemonade, as there were many aspects of the video that seemed to take a note from Beyoncé's book that Swift never asked for. Yup, people are accusing Swift of copying Beyoncé. They were doing that earlier this week when "Look What You Made Me Do" first dropped, but now they have more ammo. Guys, Swift even kind of copied Queen Bey's Pepsi commercial. I cannot.
But how did the "Look What You Made Me Do" music video copy Lemonade? Oh, allow me to count the ways. First of all, there's the obvious scene that was debuted in the preview for the music video earlier this week that featured Swift standing in "formation" with a bunch of men. Beyoncé did the same exact thing in the "Formation" video (except with ladies, obviously), and it was also part of her choreography when she performed "Formation" at the Super Bowl.
"Look What You Made Me Do" also copies one of the overall themes of Lemonade that tells the story of a woman who has been betrayed, except with Beyoncé, she was talking about her husband having an affair and breaking her heart, and Swift... is just complaining about Kim Kardashian and Kanye West.
That's a big difference, fam. And the BeyHive is not here for Taylor Swift copying Beyoncé.
And it wasn't just Lemonade she copied, guys.
The "Look What You Made Me Do" music video also features all of the "old" Taylor Swifts, a.k.a. all of the characters of herself she's shown in videos and performances over the years that are now dead, according to Swift. That's literally what Beyoncé did with her Pepsi commercial from a few years back when she was the star of the Super Bowl Halftime Show. In the commercial, Bey stands in front of a bunch of mirrors, but the reflections are images of her looks from past videos. Sound familiar? Yeah. The "Look What You Made Me Do" music video basically rips off Beyoncé in more than one way, and the Hive is not here for it.
Beyoncé's Lemonade was a poetic work of art that — as an album — has become an anthem. And it seems to me (and the internet) that Swift essentially took what she liked about Lemonade and put her own, petty twist on it.