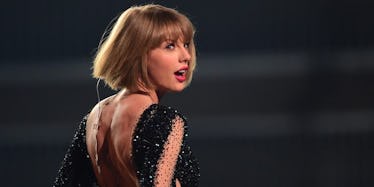 Kanye West Fans Are Calling Taylor Swift Out For Her New 'Reputation' Merch
ROBYN BECK/AFP/Getty Images
Taylor Swift is causing all sorts of pop storms to rise. She's breaking the internet pretty much every second this week, and we freakin' love it. This time, she's messing with Kanye West fans, and we all know that's a big no-no. Taylor Swift's Reputation merch is coming out soon, and fans are saying it looks like Kanye West's merch. The drama unfolds.
Swift and Kanye haven't always had the greatest relationship. Their feud began in 2009, when West rushed the stage during Swift's acceptance speech for Best Female Video at the VMAs. However, Kanye really crossed the line when he called Swift a "b*tch" in his song, "Famous." If that wasn't dramatic enough for you, on July 17, 2016, Kim Kardashian released a video of West and Swift on the phone with each other, claiming that Swift was totally fine with West's lyrics. Swift denied ever being OK with the word "b*tch." Yikes. That's when Kim K declared National Snake Day on Twitter. Things got intense. This week, Swift posted all of these weird snake videos and released a single called "Look What You Made Me Do." Is the entire new Swift album about Kanye West and Kim K? It's starting to look that way.
If Swift is actually copying Kanye West's Life of Pablo art, she is, without a doubt, out for revenge. If this is just an honest mistake, then she could've fooled me. The similarities are... pretty similar.
Would you look at that?
Oh, nooooo.
We're all going crazy.
Oh, how the tables have turned.
Is Kanye laughing or crying?
Taylor merch.
Kanye Merch.
Oh, the drama!
Please let it be a reference to "Famous." Please?
It's all too much!
Swift, I'm counting the days until you tell the world the meaning behind your new album. Is it about Kanye? Is it about Katy Perry? Is it about one of your many exes? I pray it's about something juicy. Oh, Swift. You know how to stir the pot.