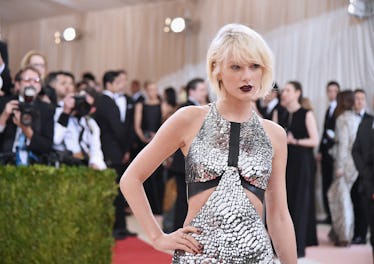 Taylor Swift Announced A New Song "Gorgeous" In The Creepiest Way & Fans Can't Deal
Mike Coppola/Getty Images Entertainment/Getty Images
Leading up to her Reputation album release on Friday, Nov. 10, Taylor Swift just announced on Instagram that the next song from the album, "Gorgeous," will be released Oct. 20 at midnight eastern time. So, what is "Gorgeous"? The Instagram announcement came in three posts, and one of them previews a bit of what the song might sound like. It also features what sounds like a young girl saying, "Gorgeous."
Fans are already freaking out about the short clip. "Gorgeous" will be the third song released from Swift's highly-anticipated sixth studio album, Reputation. The first song (and music video) released from the album was "Look What You Made Me Do," which landed with mixed reviews. The second was "...Ready For It?" which people who didn't enjoy "LWYMMD" apparently liked more. Earlier this week, Swift was seen shooting a new music video throughout London. Could it be the music video for "Gorgeous"? Is Swift planning on pulling a Beyoncé and dropping the song and music video at the same time? We'll have to wait until midnight to see, but fans think the announcement is an amazing cliffhanger. In true internet fashion, the Swifties are freaking the f*ck out. Even though they think the kid talking in the beginning is, like, semi-creepy, they still are living for it.
Swift hysteria is in full force.
This single comes a little over a month after Swift released the single "...Ready For It?" on Sept. 3, which many believe is about her relationship with English actor Joe Alwyn. Fans also think that the music video Swift was seen filming in London earlier this week is about Alwyn. Since he's from London, that would check out.
The first single to be released from Reputation was "Look What You Made Me Do," which did great on the charts thanks to Swift's massive legion of loyal fans, but there were many critics and general people alike who thought it was Swift's worst single. Like, ever. Despite the critiques of the song, the love fans have for Swift is hella strong, and Swift's love for her fans is reciprocated. She made that clear last week when she randomly showed up to a superfan's house to hand-deliver Reputation merch to her.
Instagram user @laraheartstaylor is a Swift superfan who runs her own Taylor Swift fan account. According to Lara, Swift's management team, Taylor Nation, DMed her on Instagram asking for some information so they could send her a gift for being such a loyal fan. What she didn't know was that the gift was going to be hand-delivered by Swift herself.
Swift got to her house and they hung out for a bit, according to Lara. She gave her a bunch of Reputation merch and then left. Lara said in a post about the experience,
IM@NOT F*CKINGMMD OKAY INJUST MET THE WOMAN WHO MADE AN IMAPact ON MY LIFE AND J CANNOT BREATHE OR TYOE INPROBABLY WONT BE ANSWEINF DMS BC I CANT TRYOE WELL BUT SHE SPOKE ABOUT HYGTG AND THE ALGUM AND SHE SAUD THANK YOU AND I SPOKE ABOUT TABBY AND THE BRITS AND SORRY I CSOUDLNT SPEAK ABOUT EVERYONE AND ICLOCE HER SO MUCH IM SO SHOOK AND SHE BOUGHT BAGS OF MERCH AND WHAG THE FUCK JUST JAPPENED I AM DESD DEAD RJEMDNSMDMDMSdmdmdmsmdJSMMDDMMDMDMDMDMDMSMSMSMSMDMDMDM
So yeah, safe to say Swift's fans love her and she loves them back. Swift also hosted the first of her Reputation listening parties. She apparently has been keeping track of her superfans on social media for at least a year, and she and her Taylor Nation team handpicked a certain number of them to come to her London home and listen to Reputation in its entirety.
Fans who were lucky enough to win what is essentially a Taylor Swift-run lottery tweeted about their experiences afterward, and they naturally think the album is amazing.
Only time will tell how "Gorgeous" stacks up to Swift's other singles.