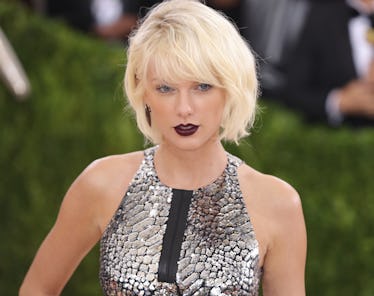 Taylor Swift Was Spotted Shooting A New Music Video, So Get Excited – PHOTOS
Neilson Barnard/Getty Images Entertainment/Getty Images
A new day, a new T-Swift music video to judge the sh*t out of. Ever since the star dropped "Look What You Made Me Do" (which prompted endless think pieces and a good amount of controversy), fans have been secretly wondering, when is Taylor Swift's next music video coming out? Fortunately, Swifties, it looks like the magic or mayhem (depending on your personal Taylor Swift opinion and journey) is already underway.
Swift has been hanging out in England for the past couple of weeks, surprising fans and maybe hanging out with low-key boo thing Joe Alwyn. But, if you think Taylor does anything just for funsies and tea and crumpets, think again. New photos have surfaced showing Swift cruising around in an English tour bus, shooting what we can only assume is her next music video masterpiece.
Not only does she appear to be partying it up with some friends on top of the double-decker bus, there are also pics of her riding around in the back of an English black cab and mysteriously waltzing across the Millennium Bridge at nighttime.
Honestly, it looks like a freaking awesome time.
English fans particularly lost their minds when learning she even stopped by a local kebab shop, something one Twitter user called "embracing British student culture."
Glamour magazine speculates the video will ultimately be a tribute to Alwyn, who is from England originally, and will likely be released with the full album. Fans can count on Reputation arriving Nov. 10, and are dying to hear what kinds of songs accompany "LWYMMD" and "...Ready For It?"
So far, while the photos of Swift shooting in London are fun to look at, they are fairly tame compared to the images we've seen in the recent "LWYMMD" music video extravaganza.
You guys know which scenes I'm talking about.
There was that whole zombie graveyard moment...
The slow-motion car crash...
...and that writhing pile of Taylor Swifts from years past.
Of course, this isn't the first time Swift has gone for cinematic excellence in her music videos.
Her Hollywood-esque triumph "Blank Space" and the Blockbuster-ish vibe of "Bad Blood" had fans and critics working overtime, weighing in, and shouting their opinions as far as the social media eye could see.
If you forgot, "Blank Space" is the one where she goes nuts in a mansion and stands on a horse, and "Bad Blood" is the one where Taylor sets things on fire and Selena Gomez has a bob haircut.
Ah. What great wigs.
Whether you're pro or anti Taylor, you've got to admit it: Her videos are entertaining as hell.
Always one to try to "8 Mile" the situation, as I like to call it, Swift's reflex is to tackle the rumors and hate surrounding her head-on. In a nutshell, that's what the Reputation album appears to be all about.
Swift has also been inviting fans to her home in England for secret album listening sessions according to People, and so far, there's been no scandalous outpour of disappointment or outrage. She's also spent some time sliding into fan's live Instagram feeds and DMs, causing a few people to come close to respiratory arrest, but luckily, no one has officially died of excitement just yet. With just a little patience and a few more sneak peek pics, hopefully Nov. 10 will be here sooner than we think.
Whatever Swift has up her sleeve, we'll all probably be hearing about it, reading about it, writing about it, dreaming about it, and fighting with our relatives at Thanksgiving about it soon enough.
Check out the entire Gen Why series and other videos on Facebook and the Bustle app across Apple TV, Roku, and Amazon Fire TV.