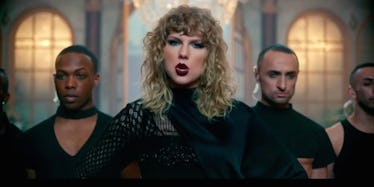 Fans Are Absolutely Losing It Over Taylor Swift's New Song "Ready For It"
Taylor Swift/YouTube
Absolutely no one could have predicted the frenzy Taylor Swift's "Ready For It" created after the singer dropped the song in the middle of a college football face-off on Saturday, Sept. 2, and yet, here we are. Twitter, especially, has gone off its rocker, and tweets about Taylor Swift's "Ready For It" will probably have you oscillating somewhere between "RIP me," and "WTF just happened?!"
Premiering during a Saturday night showdown between No. 1 Alabama and No. 3 Florida State, "Ready For It" sounds exactly nothing like everything we've come to expect from the Taylor Swift of yesteryear. (Though, to keep it real, "Look What You Made Me Do" — the first single off her forthcoming Reputation, which is set to release Nov. 10 — sounds wholeheartedly like a whiny teen retort to all of Swift's most notable celebrity spats between the likes of Kim Kardashian West, Kanye West, the media, her #SQUAD, Hiddleswift haters, and more.) "Ready For It" feels much more like an evolution for the artist — it's sexier and more breathy, and also features a touch (a touch!) of an EDM-worthy beat we've all come to expect from yet another famous Swift ex: Calvin Harris.
My critiques aside, the internet just about lost it minutes after Swift's song hit TVs across the country. I mean, just what was Swift thinking, giving no warning about a song like this on a holiday weekend?
Some fans immediately loved it.
Others were, uh, kind of confused about Swift's medium of choice.
The Swifties have come out in full force to show their support, but there's no denying that even this release came as a surprise to Swift's vast fan base. Thankfully, we've moved beyond Swift's cryptic snake-inspired tweets on Instagram and have entered the phase of hype for her new album where she just releases new song after new song without a warning. Reputation, set to be available at an iTunes near you on Nov. 10, is reportedly going to be Swift's first, and last, response to all of the criticism of her in the media. If this Instagram is any indication...
We're in for quite a September and October, you guys. Hope you're ready.