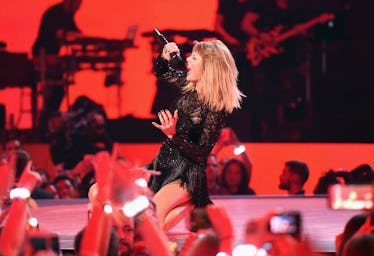 Everything We Know About How To Get Invited To A Taylor Swift Listening Party
Kevin Winter/Getty Images Entertainment/Getty Images
Taylor Swift's sixth studio album, Reputation, is coming out on Friday, Nov. 10. She's already released two of the songs from the album — "Look What You Made Me Do" and "...Ready For It?" — but leading up to the release of her newest album, Swift is hosting Reputation listening parties for select groups of fans. The first party was on Friday, Oct. 13 in her London home, so how can you get invited to a Taylor Swift listening party? Here's what we know.
First off, you have to be a Taylor Swift mega fan and have a history of loving the star. It looks like all of the fans who tweeted that they attended the first party are straight-up hardcore Swifties who have been posting about their love for the singer on social media for years. So if you fit that bill, it's possible Swift is already considering inviting you to a party.
This happened to one Swiftie earlier this month — user @laraheartstaylor —when she did an Instagram Live video about Taylor Swift, and Swift herself tuned in to watch. Since you can see the handles of the people watching when you're on Instagram Live, she was able to see right when Swift tuned in and immediately freaked out. Days later, Swift showed up to the fan's house to hand-deliver Reputation merch to her.
When @laraheartstaylor posted on Instagram about meeting the star, her caption was probably the most energetic, excited caption I've ever seen in my life. She said,
IM@NOT F*CKINGMMD OKAY INJUST MET THE WOMAN WHO MADE AN IMAPact ON MY LIFE AND J CANNOT BREATHE OR TYOE INPROBABLY WONT BE ANSWEINF DMS BC I CANT TRYOE WELL BUT SHE SPOKE ABOUT HYGTG AND THE ALGUM AND SHE SAUD THANK YOU AND I SPOKE ABOUT TABBY AND THE BRITS AND SORRY I CSOUDLNT SPEAK ABOUT EVERYONE AND ICLOCE HER SO MUCH IM SO SHOOK AND SHE BOUGHT BAGS OF MERCH AND WHAG THE FUCK JUST JAPPENED I AM DESD DEAD RJEMDNSMDMDMSdmdmdmsmdJSMMDDMMDMDMDMDMDMSMSMSMSMDMDMDM
So yeah, it seems like you need to be this level of fan in order to get invited to one of Swift's exclusive listening parties.
One Swiftie who was invited to the party said Swift told her she's been following her tweets for a year.
Another user said Swift recognized her and knew her name when she walked into the house.
It seems like Swift has been stalking her fans for the last year while she's been working on Reputation and carefully selected which of her fans got to come to the first party in London. (Swift was seen shooting a music video in London this week, in case you missed it. The video is reportedly about her boyfriend Joe Alwyn, who is from London.)
So, if you want an invite, you need to have already been posting about Swift a lot. I mean a lot. The fans being invited to these parties seem to run their own Taylor Swift fan accounts. User @laraheartstaylor posts about Swift every day, and other users who confirmed they were at the Reputation listening party also post about her all the time. Their invitations to the listening parties apparently came via Swift's management team, Taylor Nation. According to @laraheartstaylor, the team slid into her DMs asking for some information so Swift could send her a gift. Little did she know the gift was going to be hand-delivered by Swift herself.
And that's where you should look for your invitation if you think you're going to get one. So, if you really want an invite to this exclusive shindig, make sure your Twitter and Instagram profiles aren't set to private so Taylor Nation can DM you.
With all of these tweets about fans' experiences at the #reputationsecretsessions, it's clear Swift and her team are scouring through social media to find her biggest fans.
If you search through the #reputationsecretsessions hashtag, you'll see that a majority of the fans tweeting that they got to go to Swift's party have Twitter handles/accounts dedicated to her.
So, basically, if you want to be invited to a Taylor Swift Reputation listening party, it seems that you need to fit these criteria:
1. Be a Taylor Swift mega fan with years of proof of your love for the singer.
2. Have a Twitter and/or Instagram account that's dedicated to posting about Swift that you have been running for years.
3. Be lucky AF.
If you fit these bills, you might want to keep your eyes open for a potential DM from Taylor Nation.