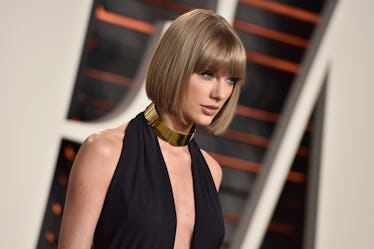 Taylor Swift Hand Delivered 'Reputation' Merch To A Fan & We Are So Jealous
Pascal Le Segretain/Getty Images Entertainment/Getty Images
Swiftmas came early this year, or at least it did for one fan. Taylor Swift surprised a superfan by dropping by her house in the UK unannounced, presents in tow. The Swiftie understandably *freaked out,* the two posed for some pictures, and the whole thing was ridiculously, insanely cute.
All of the superfan madness started on Oct. 6, when a fan who uses the Instagram handle @laraheartstaylor was participating in a live stream with some fellow Swifties. Taylor Swift herself suddenly hopped into the chat, and footage on Instagram shows the girl freeeeeaking out. The fan tries to quickly tell her idol how much she means to her ... and then the real fun begins.
Five days later, on Oct. 11, Swift showed up at the girl's house, bringing along a ton of Reputation merch, and supposedly played the superfan a brand new song for her upcoming album.
As evidenced by @laraheartstaylor's reaction to the whole encounter ... she was really, really not okay. Per Instagram,
IM@NOT F*CKINGMMD OKAY INJUST MET THE WOMAN WHO MADE AN IMAPact ON MY LIFE AND J CANNOT BREATHE OR TYOE INPROBABLY WONT BE ANSWEINF DMS BC I CANT TRYOE WELL BUT SHE SPOKE ABOUT HYGTG AND THE ALGUM AND SHE SAUD THANK YOU AND I SPOKE ABOUT TABBY AND THE BRITS AND SORRY I CSOUDLNT SPEAK ABOUT EVERYONE AND ICLOCE HER SO MUCH IM SO SHOOK AND SHE BOUGHT BAGS OF MERCH AND WHAG THE FUCK JUST JAPPENED I AM DESD DEAD RJEMDNSMDMDMSdmdmdmsmdJSMMDDMMDMDMDMDMDMSMSMSMSMDMDMDM
The photographic evidence was fangirl dream ~goals.~
The Swiftie was loving all of the T.Swift goodies (because, natch) and took to Instagram to show off her haul of presents. She said,
I'm currently trying on all the merch that Taylor got me, and the sleeve says the 10th of the 11th of the 17th on it, because that's the release date [of Reputation] in like, the American date, but for UK date, that's today ... but it's so cool because it's kind of like, for me, it's customized for the day that I met Taylor which is like, amazing.
This is definitely not the first T.Swift superfan to be gifted with some serious swag. The pop singer has a reputation for sending over very generous packages brimming with all sorts of goodies.
Billboard reported that, back in 2014, 16-year-old fan Rebecca Cox received (deep breath, here): a Fujifilm Instax Mini 90 Polaroid camera, picture frames, Brandy Melville clothes. blankets, pillows, a stuffed animal, a Christmas sweater, and $200 worth of gift cards.
Her friend, Victor Vinson, also got a package from the pop star, which included Ray-Bans, a blanket, a Burberry scarf, a box of cookies from Swift's favorite bakery, a Polaroid camera, and a hat.
OK, if you're not currently seething with jealousy right now, I don't even know what to tell you.
To add goodness onto goodness, the gift bags came with a personalized card, each with a nod to the singer's music. Vinson's Ray-Bans had a note that read: "James Dean wore these back in the day. They never go out of style." Cox's picture frame came alongside a message saying: "To Becca — I thought you could put Polaroids of you, me, and V in here."
"There's no one in the music industry who has a big of a heart as she does," Cox told Billboard. "You can tell that she wrapped all the gifts personally. She uses a ridiculous amount of tape."
And it's not just the teens who are getting a taste of the glorious Swiftmas.
Katie Mullins, a third-grade teacher and Swift superfan, created a video that the singer later re-blogged. Next thing Mullins knew, she had some very special presents waiting in her mailbox. Mullins later told People,
You can tell it's really genuine, everything she writes. It's not contrived in any way. She's just so charming, her personality, the fact that she does stuff like this, it's crazy.
Ummmm, so how can we all get on this Swiftmas train? Asking for a friend, who really, really likes Ray-Bans and boxes of cookies.