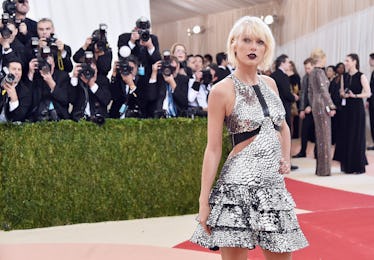 Taylor Swift's Fans Think They Know Who "Gorgeous" Is About & It Actually Makes Sense
Mike Coppola/Getty Images Entertainment/Getty Images
Taylor Swift fans, unite. There's a new song coming our way very, very soon. The singer announced that her newest single off the Reputation album is dropping at 12 a.m. on Oct. 20. The soon-to-be-amazing-hit is called "Gorgeous" and fans have one giant guess who they think it could be about — T. Swift herself. Is "Gorgeous" about Taylor Swift? Fans think it really could be.
Swift released the news that we were getting new music just hours before the song was expected to release. She spilled the news via Instagram with three perfect posts. The first post simply said "Available Everywhere." Which, to be honest, I think is a little misleading. It makes it sound like it's available RIGHT THIS VERY SECOND. Sadly, it wasn't, we had to wait a few hours. Alright, Taylor, you're worth the wait.
The second post was a very short video. The word "Gorgeous" appeared all over the background in Gothic (I think?) text. I'm not exactly a text expert, so I'm not sure a better way to describe it. Then, a few beats hit and a small child says "Gorgeous" while the word appears in big letters across the middle of the screen.
The final post clarified everything by saying "Midnight Tonight Eastern." Thank you for the little bit of info, Tay. The interesting thing about these posts is they are dripping in pink. Most of Swift's Reputation art has been black and white with a mixture of gloom-and-doom. However, it looks like "Gorgeous" might be a little brighter and have that same pop sound we're used to hearing from Swift.
There's been rumors circulating that "Gorgeous" could be about Kanye West or someone else that Swift dislikes. However, fans are theorizing it could actually be about someone Swift likes very, very much — herself.
Actually, I can't tell if fans think Swift loves herself this much or if they just love her this much. Either way, fans think the song will be flattering AF.
Obviously, Swift is absolutely stunning. However, she doesn't normally write songs about feeling herself this much. She also doesn't normally write songs that throw shade for basically three minutes straight. So, who knows. New album, new Swift.
Also, this is the most overused joke on Twitter right now.
OK, yes it's kind of funny. Plus, you know we're all going to be sending Snapchats of ourselves singing "Gorgeous," so let's get the jokes out of the way right now.
It will be interesting to see if the meaning behind "Gorgeous" is as obvious as "Look What You Made Me Do." Fans are starting to think the color choices behind Swift's releases are significant. First, the Reputation cover art and "LWYMMD" teasers kept it very mute with a lot of black and white with little pops of red.
Then "...Ready For It?" blazed on to Swift's Instagam in orange. Peculiar, right?
Now "Gorgeous" is a flirty shade of pink. Swift is loving the color blocking, but could it mean more? Fans think so.
Basic common sense makes me feel like each song is meant to evoke a different emotion, similar to the vibes each color gives off. Knowing Swift, there will probably be some crazy color reveal. By the time her album releases, her Instagram will look like a painting of Katy Perry or something crazy like that. Swift has quickly become the queen of hidden messages. Once Reputation drops in its entirety on Nov. 10, I'm sure a lot of things will make sense.
Until then, we have "Look What You Made Me Do," "...Ready For It," and now "Gorgeous" to listen to on repeat and dissect. Honestly, I've loved all of Swift's new music lately, so more power to her.
Check out the entire Gen Why series and other videos on Facebook and the Bustle app across Apple TV, Roku, and Amazon Fire TV.