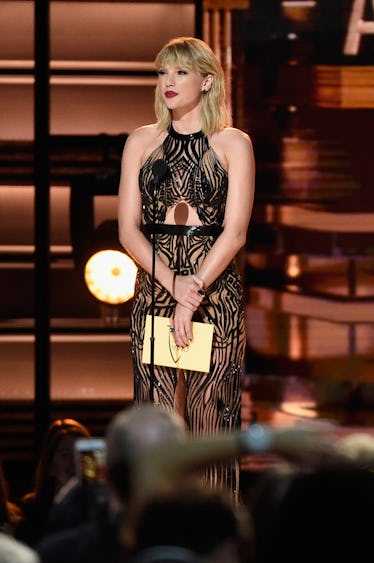 These Tweets About Taylor Swift's "Gorgeous" Prove Her Fans Are Totally Creeped Out
Gustavo Caballero/Getty Images Entertainment/Getty Images
Drop everything because Taylor Swift just announced that another new song from her album, Reputation, is dropping tonight at midnight. The tweets about Taylor Swift's "Gorgeous" prove that her fans are a bit creeped out though. Why?
First up, Swift announced the new track on Instagram, with the important details about it coming at midnight tonight and a clip of a very creepy sounding baby saying "Gorgeous" while a synth bop plays.
Huh?
It's a head scratcher, but she's definitely got everyone's attention. Fans were quick to react on Twitter, with one person who tweeted this theory (hmmm....maybe?), writing: "IS THE BABY SAYING GORGEOUS IN THE TEASER CLIP TAYLOR AS A BABY?"
Another fan had this idea: "taylor isn't pregnant, she had the child already! it's a child of taylor, so of course it can speak already. that's the voice in #Gorgeous."
One fan noted: "GUYS IS THIS BABY TAYLOR SAYING GORGEOUS CAUSE I'M DEAD." You're not alone, that's for sure!
Okay, this might just be the best theory I've seen about "Gorgeous": "I BELIEVE THAT THE SONG STARTS WITH A CONVERSATION WITH MAMA SWIFT AND BABY TAYLOR AND THE WORD GORGEOUS DROPS AND THE BEAT STARTS ‪#gorgeous."
Another fan asked: "Who's that little kid saying gorgeous? Is that Taylor?"
Anyone else getting this feel?: "OMG WHY DO I PICTURE BABY TAYLOR SAYING GORGEOUS ??"
While the baby theories rolled in and many believed it just has to be little Taylor from back in the day, one fan who was lucky enough to attend one of Swift's secret session listening parties had some inside scoop but is staying mum.
She tweeted: "I can't wait for ‪#Gorgeous to be released tomorrow. It's a masterpiece even by ‪@taylorswift13's standards. & I'm not saying who the baby is!"
Um. Please?
No dice. She's obviously been sworn to secrecy (I respect that), but when another fan said, "Obviously it's baby Taylor!!!!!," she confirmed, "It's not."
Another fan who attended the secret session listening party assured others: "I got to hear ‪#Gorgeous last night and it was AMAZING (obviously!) YOU GUYS WILL LOVE IT I PROMISE!"
She also shared this little bit to ponder: "GUYS I'm not sure if Taylor tells the story behind the baby voice in that Gorgeous clip you won't think it is creepy haha!"
One fan noted the creep factor of the child's voice, tweeting: "well that Taylor Swift snippet ain't creepy is it ‪#gorgeous." Little bit.
Another fan was totally spooked, tweeting: "that baby voice on Taylor's video scares me JSJSJ."
Can we get to the bottom of this? One fan tweeted what we're all thinking: "now who's the baby saying 'gorgeous' and why is it the luckiest baby ever? ‪#gorgeous‪ #reputation."
It is indeed a mystery we need solved, so hopefully all will be revealed soon. One fan noted: "Now we gotta figure out who's baby that is ‪#gorgeous ‪@taylorswift13 ‪@taylornation13."
Mystery solved? If it's not Swift herself, this fan theory is a decent guess: "I CANT SLEEP I NEED IT RIGHT NOW WHO'S THE BABY IS IT YOUR GODSON LEO IS JAIME KING THERE TOO OMG!!!!! ‪#Gorgeous."
And this is highly relatable: "*taylor posts a kid saying gorgeous* me: i love this song."
Another tweeted this reality: "I JUST BLINKED AND TAYLOR IS RELEASING GORGEOUS WTF."
Here's a prediction about Swift's new song: "Knowing this fandom, this bop is gonna kill us, break the records taylor broke to begin with and become a #1 in like two hours ‪#gorgeous."
Who's "Gorgeous" about? A lot of fans had this theory: "‪#GORGEOUS‪ Taylor wrote a song about herself????"
Loving this: "omg I think Taylor wrote gorgeous about me... ‪#theory ‪#leak."
So. Many. Reactions:
Check out "Gorgeous" when it drops at midnight tonight!
Check out the entire Gen Why series and other videos on Facebook and the Bustle app across Apple TV, Roku, and Amazon Fire TV.