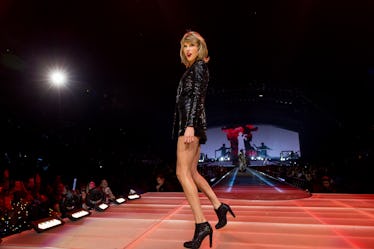 Taylor Swift's "Call It What You Want" Is Here & It's Actually So Emotional – LISTEN
Christopher Polk/Getty Images Entertainment/Getty Images
Although she claims otherwise, Taylor Swift is not, in fact, dead. Actually, she's very much alive and transforming the PR world of music with each passing day. Fans woke up to the news that her latest single "Call It What You Want" was dropping at midnight on Nov. 3, and both tweens and adults alike stayed up past their bedtimes to catch it when it dropped. Here's how to listen to Taylor Swift's "Call It What You Want," in case you haven't heard it yet.
If you've been paying close attention, Swift's promotion for her latest album, Reputation, has been a true masterpiece. She's been coming at us from all angles on social media, including her Instagram account, YouTube, and most recently, she announced a special performance during ABC'S TGIT lineup on Nov. 9. Swift has her fans' heads spinning in every direction, and with each new trickle of info comes a new wave of hysteria.
As part of the hype for "Call It What You Want," Swift utilized the tried and true tactic of using her Instagram account to get us jazzed. She shared a three-part series of graphics including handwritten and typewriter font lyrics on what looks like brown craft paper. It's a stark contrast when compared to her bold graphics and colors for "Look What You Made Me Do," "... Ready For It?", and "Gorgeous."
In the Instagram posts, she included the intimate lyrics "Holding my breath, slowly I said, 'You don't need to save me...'" and "'But would you run away with me?' ... 'Yes.'" This led fans to believe it could be a love ballad coming our way.
While Swift's album is as intimate and personal as all of the ones that have come before it, there is something unique about Reputation. It could just be that Swift and her fan base have grown up together, but it also seems a little more fierce than the tracks she's graced us with before.
You can listen to "Call It What You Want" below:
And here are the emotional lyrics:
My castle crumbled overnight
I broughbt a knife to a gunfight
They took the crown but it's alright
All the liars are calling me one
Nobody's heard from me in months
I'm doing better than I ever was
Cause my baby's fit like a daydream
Walking with his head down
I'm the one he's walking too
So call it what you want yeah, call it what you want to
My baby's fly like a jet stream
High above the whole scene
Love's me like I'm brand new
So call it what you want yeah, call it what you want to
All my flowers grew back as thorns
Windows boarded back up after the storm
He built a fire just to keep me warm
All the drama queens taking swings
All the jokers dressing up as kings
They fade to nothing when I look at him
And I know I make the same mistakes every time
Bridges burn, I never learn
At least I did one thing right, I did one thing right
I'm laughing with my lover
Making forts under covers
Trust him like a brother
Yeah you know I did one thing right
Starry eyes sparking up my darkest night
Now, we're all waiting for what comes next on Nov. 9.
As part of the hype train, Scandal tweeted out the news about Swift's special performance during ABC's programming, and fans lost their minds. Many wrote that they were "screaming," "shouting," and "not mad."
AT&T is also heavily involved in this album, and will be debuting something called Taylor Swift NOW, which is a "specially curated video catalog" that will include footage created by Taylor herself.
AT&T explained in a press release,
[The content] is organized in themed chapters and packed with special glimpses into Taylor's life and work spanning her entire career. This will include original content with commentary from Taylor herself.
Fans can anticipate more content similar to the YouTube behind-the-scenes video Swift just debuted in which she is seen working on her song, "Gorgeous."
In the video, Swift props a single camera up in front of herself and her various instruments, sort of walking us through what part of the writing process might look like.
Spoiler: It's pretty straightforward... lots of tinkering around on the piano and adjusting lyrics here and there.
STILL, WE LOVE IT.
"Call It What You Want" is yet another Reputation triumph, and we are nothing if not paying attention to Taylor now.
Where, how, and when she will strike next? We don't know, but we know it's gonna be big.
Check out the entire Gen Why series and other videos on Facebook and the Bustle app across Apple TV, Roku, and Amazon Fire TV.