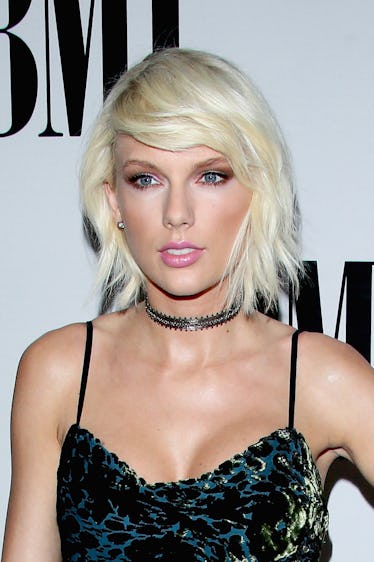 Taylor Swift Is Debuting A New Song During 'TGIT' & Fans Are Screaming
Mark Davis/Getty Images Entertainment/Getty Images
Taylor Swift can't stop dropping surprise bombs on her fans, and today is no different. Her latest single off her Reputation album, "Call It What You Want," sounds like it's going to be a real emotional doozy, and we just learned she will be performing ANOTHER new song during ABC's TGIT lineup. Fans are full-on freaking out over Taylor Swift's TGIT performance, and marking their calendars for Nov. 9.
It seems that lately Swift's big move is to partner up with multimedia and technology giants, like AT&T, and is actively pursuing new avenues to get to her fans. We've known for a while that Reputation is coming, but details, sneak peeks, and single teasers have been steadily oozing out of the "Look What You Made Me Do" singer in surprising and unique ways.
Think back. It all started when you were probably minding your own business, not even THINKING about what was going on on Taylor Swift's Instagram, when BOOM. All of her photos are gone. A slithering suspicion something big was coming slinked in, and then a literal slithering snake took over her feed.
Since then, it's been surprise announcement after surprise announcement.
Today, we have this:
Good God, I love the dramatics of a piano in an empty room.
Scandal tweeted the good news early on the morning of Nov. 2, and fans are losing it.
Many responded on Twitter that they were "shouting," "screaming," "sobbing," and, as one user put it, "She got haters, but woman is killin' the promotion game. Not a swiftie---but I ain't mad."
I also ain't mad, and I also ain't a swiftie.
The TGIT collaboration might feel a little out of left field unless you consider Swift's love of Grey's Anatomy.
Once you remember she named her cat after Meredith Grey and had a sneaky little Ellen Pompeo cameo in her "Bad Blood" squad extravaganza, then the collaboration feels... IDK if appropriate is the right word... but maybe nostalgic?
All of this news come directly on the heels of Swift releasing lyrics to what seems to be a tear-jerking ballad, "Call It What You Want."
In a series of three posts, Swift shared handwritten and typewriter font lyrics on what looks like brown craft paper. The words are:
Holding my breath, slowly I said, 'You don't need to save me...'
'But would you run away with me?' '... Yes.'
Dear Lord Tay-Tay. You're bringing the feels, I can tell.
Of course, all of this PR came just one day after she gave us a 10-minute behind-the-scenes video on YouTube revealing part of her writing process for the song "Gorgeous."
In a similar series of three Instagram posts, Swift shared pics of herself working in the studio and playing her guitar. The caption directed fans to AT&T's YouTube channel, where they could catch the whole shebang (which was basically her singing the song over and over again in different outfits).
Still, fans ate it up.
AT&T explained in a press release that the video is part of a larger body of work called Taylor Swift NOW, which is a "specially curated video catalog."
They said,
[The content] is organized in themed chapters and packed with special glimpses into Taylor's life and work spanning her entire career. This will include original content with commentary from Taylor herself.
It's a lot to take in, but we're doing our best, Taylor!
Who even KNOWS what she is going to unleash on us tomorrow, all we know is we can't look away now.
Check out the entire Gen Why series and other videos on Facebook and the Bustle app across Apple TV, Roku, and Amazon Fire TV.