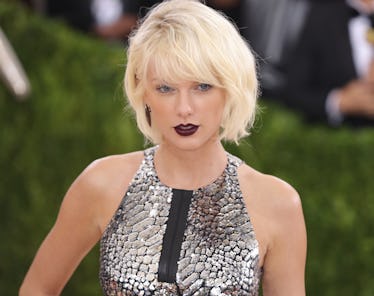 Taylor Swift Shared How She Wrote "Gorgeous" & It's So, So Intimate
Neilson Barnard/Getty Images Entertainment/Getty Images
T-Swift fans are sweating it out waiting for the drop of her latest album, Reputation, and, boy oh boy, does she have us riding the hype train. The already multi-hit record is sure to deliver a new, new side of Taylor, which we've caught some glimpses of in her first single "Look What You Made Me Do" and again in "... Ready For It?" In Taylor Swift's behind-the-scenes video of writing "Gorgeous" we also see an intimacy and vulnerability to Swift that is a major juxtaposition from the fierce babe she's been serving us recently.
Swift has been using her Instagram platform as her main form of PR for this new record, famously deleting every photo she's ever posted and replacing it all with slithering snakes and Reputation graphics. This morning, on Nov. 1, she shared a series of selfies playing her guitar in her recording studio. She captioned the photos,
A glimpse into the making of #reputation. There's a video of me writing "Gorgeous" on @att 's YouTube page. Link in bio. #TaylorSwiftNOW
In the pics, she looks much like the Taylor we know and love from the old days... all flanneled out, rocking some bangs, and strumming that sweet, sweet guitar. Long-time collaborator and friend Jack Antonoff of the band Fun also makes a little background appearance.
If you're like me, you sprinted to YouTube to see what really goes on behind the making of a Taylor Swift song, and spoiler: It's a lot of quietly playing the piano and looking off into the distance.
In the behind-the-scenes look, Swift sets up in front of a guitar and piano with a camera pointed at her face, seemingly working out the lyrics to her song "Gorgeous." Deep in thought or simply just hungry/tired, she rehearses certain melodies and phrases over and over again. At one point, a window washer cascades down her wall, cutting her off.
Here, if you have ten minutes, you can watch her repeat the phrase "I've got a boyfriend and he's older than us" while being back lit like an angel.
Summed it up pretty good, didn't I?
The video is shared on AT&T's channel with the caption:
Get an unprecedented glimpse into Taylor's songwriting process as she shares personal videos of herself at the piano playing and creating the song "Gorgeous". "The Making of a Song" is a revolutionary new series shot by Taylor herself, coming to Taylor Swift NOW on Nov. 13.
According to Vanity Fair, Taylor Swift NOW is a "specially curated video catalog" accessible through DIRECTV NOW. It will be available as a streaming service to AT&T customers.
In a press release, AT&T explains,
[The content] is organized in themed chapters and packed with special glimpses into Taylor's life and work spanning her entire career. This will include original content with commentary from Taylor herself.
It sounds cool... but also, like, a little complicated?
Hello, we're millennials, AT&T! We like things free, easily accessible, and with no other steps beyond opening up our phones or laptops and blinking three times.
With any luck, Taylor will keep us low-key in the loop about her cool projects on her own time, and fans will have more access to sweet behind-the-scenes details and personal info soon. Plus, it's not unlike Taylor to invite fans literally into her own home, so we're sure this isn't the ONLY way we can get personalized info on the making of Reputation.
The album drops on Nov. 10 through Big Machine Records, and we are ready and waiting, Tay-Tay.
Check out the entire Gen Why series and other videos on Facebook and the Bustle app across Apple TV, Roku, and Amazon Fire TV.