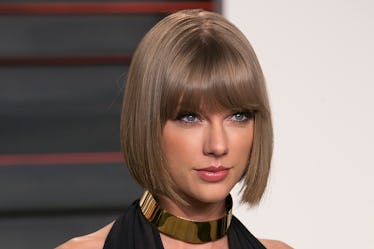 Taylor Swift Held A 'Reputation' Listening Party In LA & The Tweets Are So Pure
ADRIAN SANCHEZ-GONZALEZ/AFP/Getty Images
Taylor Swift might be embracing her darker side on her upcoming album, but she sure is sweet as ever to her fans. The songstress has been inviting some lucky members of her devoted base to private listening sessions for her new album, Reputation, which drops on Nov. 10. In case you needed proof of her dedication, she hosted another private listening session for fans on Oct. 22 with her famous friends Jack Antonoff, Ruby Rose, and Alana Haim, and the tweets from Taylor Swift's Reputation listening party in L.A. are so pure.
T.Swift's latest album is her sixth, and it's been a long road from her early days of singing about Romeo on "Love Story." Swift has embraced her darker side of late, after several public beefs with other artists and public figures. "Look What You Made Me Do," Swift's first single off of the new album, references feuds with Katy Perry, Kanye West, and Kim Kardashian. Plus, the video's similarities to Beyoncé's Lemonade nearly incited a war between their fans.
Aside from the tracks "Look What You Made Me Do," "Ready for It?" and "Gorgeous," Swift has been pretty mum about the contents of the album. But, fans who've gone to her listening parties in London and, more recently, Los Angeles might have an idea about the contents.
Although given the level of love a fan must display to get an invite to one of these events, there's no way they'd betray Swift's privacy by talking too much about it. Not to mention that they were in for quite a thrill when they walked through the doors.
Judging from the photos, there were smiles all around.
Swift's fans' tweets from the L.A. listening party might not reveal too much about the album, but they show just how elated the Swifties were to be there. Just look at these faces!
Fans were thrilled that she knew their names (and they loved her style!)
Some of the attendees noted several details about Swift, including her outfit (black top, camouflage pants, black boots), which seems in line with the Reputation aesthetic, and how personable she was to the visitors.
Even though the fans said the get-together was a "secret" session, there was nothing secret about how thrilled they were to attend.
There were some hints about the album, too.
While most of the tweets were amped up on the sheer excited of meeting Swift in person (never mind actually hanging out at her house), one fan gave a little insight into the album itself — and she was shook.
So, uh, now we're all extra excited.
Even Jack Antonoff had a super-sweet tweet about it all. Given the fans' shookness, it's easy to understand why they didn't rave about the other guests, including Rose, an actress, Haim, who's a member of the eponymous band, or Antonoff himself. But he appeared to truly enjoy the evening.
Because not just anyone gets to go to these sessions. Sure, Antonoff is a musician in his own right, but not just anyone gets invited to these parties. As one fan pointed out, the stakes for entry are quite high. To score an invite, you have to be a fan with a long history of defending the artist and stanning for her. Or, you can post a video on Instagram proclaiming your love for the star, and Swift just might respond with an invite. So, it's a privilege.
Seriously though, can you say "best Sunday ever"?
This fan can.
Now, it's hard to believe that an artist who moved her fans with such a gesture would fixate on her not-so-sweet reputation for her new album. But, the new songs already released hint that it's more expansive than some initially thought.
"Ready for It?" — one of the few tracks that those of us who didn't get an invite to the private parties have heard — is actually pretty flirty. Some have speculated that it (along with other songs) is about Swift's rumored boyfriend, actor Joe Alwyn.
Now, if you can't wait until early November for the album to come out, it might be a little too late to start proving your fandom to Swift to score an invite to these elusive parties, if there are any more. Sorry to disappoint.
But, hey, the tweets are so sweet that they'll make you feel no bad blood towards any of the fans who got to go. Anyway, November 10 is only a few weeks away.