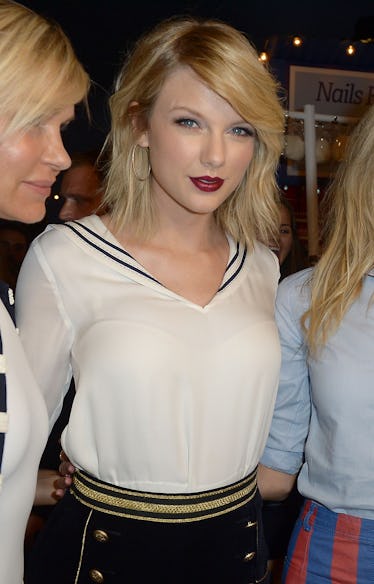 Taylor Swift's 'Reputation' Will Reportedly Throw Major Shade At These Celebs
Gustavo Caballero/Getty Images Entertainment/Getty Images
It wouldn't be a Taylor Swift album if there weren't a few diss songs in the mix, right? With Taylor Swift's Reputation dropping soon, fans have plenty of questions about what songs will be on the track list and, perhaps most importantly, who those songs will be about. This is Swift we're talking about, well-known for using her personal relationships and feuds as lyrical inspiration. So, who is Reputation about?
So far, we only know two songs on the Reputation track list: "...Ready for It?" and "Look What You Made Me Do." Otherwise, Swift has kept the rest of the song titles securely under lock and key.
Swift's "Look What You Made Me Do" is already brimming with past feuds, with references to Katy Perry, Kanye West, and Kim Kardashian. According to a new report from Us Weekly, Swift is likely to throw even more shade in her Reputation lyrics as well. What else would you expect, honestly?
A source told Us Weekly that Swift's new album "chronicles her feuds" with West, Kardashian, Perry and Calvin Harris. A Harris diss track? Ooh. I'm in.
Swift's lyrics about these past feuds "will be across multiple songs, somewhat cryptically," the source notes, adding, "but also obvious." Loving. It. Another source says her lyrics are "totally on point."
Will fans hear any references to Swift's current boyfriend, Joe Alwyn? A source told Us Weekly that she's "very much in love," but she wrote the album before they started dating. One insider believes "there is only one song with a reference to him."
Feuds aside, the insider notes that fans can expect "her most experimental work yet in terms of sound," adding, "She's definitely coming for the Grammys."
Don't forget this lyric that appears to move Swift forward into new territory, after all: "I'm sorry, the old Taylor can't come to the phone right now/ Why? Oh, 'cause she's dead."
Bring it.
Though tight-lipped about the track list and the meaning behind her songs, some lucky fans had the honor of attending a secret listening session in London on Oct. 13, where they heard the whole album. One fan noted that "Literally everyone was sobbing" during one song. OMG. Details. I need details. Fans also got a commemorative snake keychain from the event. Snakes, snakes, everywhere. Even on her boots.
For even more Swift fun, there's a special Target edition of Reputation that will have two 72-page special-edition Taylor Swift magazines, which the Target website explains:
Whether you pre-order or buy one or both magazines at Target, you'll get an exclusive peek into Taylor's world like you've never experienced before — 72 pages of her personal poetry and photos, artwork, hand-written lyrics, a behind-the-scenes glimpse at her 'Look What You Made Me Do' video and more.
And speaking of her video, check out the latest "Look What You Made Me Do" behind-the-scenes peek from Swift, where the singer takes fans into the many "old Taylor" looks from her video.
Swift says, "Welcome to wardrobe land," adding, "This is where the apocalypse of clothing has all congregated and essentially I have just done the longest fitting of my entire life."
It's cool to watch Swift check out some of her old fashion choices, as she explains: "We're picking which looks are kind of the ones that we want to call attention to and kind of go back and have a little sarcastic look down memory lane."
Taylor Swift's sixth album, Reputation, is scheduled for release on Nov. 10, 2017. Place your bets on how many diss/revenge songs will be on the album.
Check out the entire Gen Why series and other videos on Facebook and the Bustle app across Apple TV, Roku, and Amazon Fire TV.