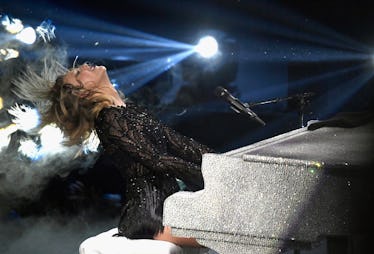 Taylor Swift Surprised Fans With New Music & Their Tweets Are So, So Sweet
Frazer Harrison/Getty Images Entertainment/Getty Images
It's no surprise that Taylor Swift adores her fans. Swifties have been feeling the love from the singer since the moment she popped onto the music scene. But her fans in London recently got the best surprise, and when you read these tweets about Taylor Swift's Reputation listening party, you will definitely wish you were there.
Swift fans have been waiting for new music from the star for quite some time now, but for a select few UK fans, the wait is finally over. You might remember reading about how Taylor Swift has been very active on her fans' Instagram accounts lately. Well, it turns out that while Taylor was stalking her fans on social, she was also picking out fans to invite to her exclusive Reputation listening party that was held in London on Oct. 13, according to The Independent.
The singer is no stranger to holding intimate listening parties ahead of the release of new music. The Independent wrote that you'll remember she held similar soirées in 2014, when she was getting ready to release her debut pop album, 1989.
The listening party wasn't just a "come over and I'll play you this album." Swift went all out when it came to making sure her fan test group were taken care of, and afterward, they took to Twitter to reveal all of the envy-inducing details.
There Was No Shortage Of Reputation Swag
Oh, and Swift was also just doling out hugs and making sure her fans knew that she freaking loved them.
A snake keychain? I see you, Taylor.
Many Were So Excited Just To Know Swift Knew Them By Name
Um, yeah, if Taylor Swift said my name, I'd be done. Like, literally what else could you ever need? These fans seem to share that sentiment.
Honestly, the tweets about the listening party are so incredibly sweet. Swifties definitely felt the love from Swift, and they made sure they showed the love right back on Twitter. The Independent also reported that fans did not go hungry. There was reportedly chicken nuggets, M&Ms, and Reputation-themed cookies passed out throughout the night. I'd bet that there's a good chance that Swift herself might have had a hand in baking those cookies, too.
Taylor Knows What's Up When It Comes To Snacks (and vinegar, apparently).
And If Her Fans' Reviews Are Accurate, It Sounds Like Reputation Is Going To Be Yet Another Hit For The Singer
It sounds like Swift is ready to surprise people with her new sound.
And then, to prove that her fans are just as sweet as Swift, they took to Twitter to let everyone know that Swift is happy. Like, really, genuinely-in-a-good-place happy. Many of the fans that attended the secret listening session tweeted that they were just so glad to see the star looking the "happiest she has ever been."
Fans Didn't Even Care About Being Noticed — They Just Wanted To Let Taylor Nation Know That Their Girl Is Doing Well
Could these Swifties be any cuter? I think not. Man, the FOMO is really starting to kick in. It sounds like Swift and her handpicked fans just had themselves the night of their lives.
It will definitely be a Friday the 13th to remember. Of course Swift picked the 13th because attention to detail never escapes her, and her lucky number is 13. Seriously, she doesn't miss a beat.
Fans also noted that a couple very important people were there as well, like her mom and dad.
Apparently Mama Swift Was Giving Out Hugs And Scott Swift Was Handing Out Guitar Picks
Even dads of global superstars can't help showing their pride in the most adorable dad manner possible.
So, now that you know Swift is happy and that Reputation is going to blow your mind, you can keep counting down until the album's release on Nov. 10. And hey, maybe Swift is stalking your Instagram right now, and then you'll be tweeting about an awesome secret listening party. I mean, it could happen.
Check out the entire Gen Why series and other videos on Facebook and the Bustle app across Apple TV, Roku, and Amazon Fire TV.