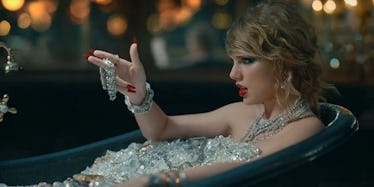 13 Lyrics From "Look What You Made Me Do" That Are Fierce Instagram Captions
TaylorSwiftVEVO/YouTube
Whether you love her, or you love to hate her, Taylor Swift is back in action. And this time, it's no fairytale, and she's certainly not looking to shake it off. Taylor Swift has come back with an epic hit, and she's not apologizing for anything. We've been patiently waiting to be blessed with new Swift music for awhile now. She was on hiatus while all of the Kanye West and Katy Perry drama started to build up, and we just wanted to hear what she had to say about all of it. Now, we know... and this stuff is fierce. Swift is not holding back in her new single, "Look What You Made Me Do." New Taylor doesn't have time for any BS. RIP, old Taylor, "because she's dead." Honestly, Swift's hot single is so #fierce, you should really start making a list of "Look What You Made Me Do" Instagram captions.
Even if you're not a fan of the song, it's undeniable that these lyrics are solid. As captions, they work perfectly to show you could care less about your new reputation as well. If you're fighting with an ex-friend, moving on from a breakup, politically rebelling, or you just want to show how you're mad as hell and you won't take it anymore, here are 13 Taylor Swift lyrics for you to use. Yes, 13 because we know that's Taylor's favorite number. To all the haters, you can say frankly you don't give a damn. Look what you made me do.
1. "I don't like your little games."
2. "The role you made me play of the fool, no, I don't like you."
3. "I don't like your perfect crime."
4. "You laugh when you lie."
5. "I got smarter, I got harder in the nick of time."
6. "Honey, I rose up from the dead, I do it all the time."
7. "I've got a list of names and yours is in red, underlined."
8. "Look what you made me do."
9. "The world moves on, another day, another drama, drama/But not for me, not for me, all I think about is karma."
10. "Maybe I got mine, but you'll all get yours."
11. "I don't trust nobody and nobody trusts me."
12. "I'll be the actress starring in your bad dreams."
13. "'I'm sorry, the old [your name] can't come to the phone right now. Why? Oh, 'cause she's dead!'"