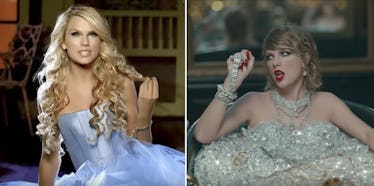 Here's How Much Taylor Swift Has Actually Changed Since Her First Music Video – PHOTOS
YouTube
You guys, I took a big one for the team. I rewatched every one of Taylor Swift's major music videos and learned a lot. Like, A LOT, a lot. I traveled back to the long, curly locks and squinty eyeliner days. I traversed the platinum bob into the red lipstick pout. I mountaineered through the peaks and valleys of her endless, rocky love life. I danced among the squad of amazon beauties and I watched her die and come back to life in her latest single. And let me tell you, Taylor Swift's first music video vs. Reputation tells a tale of I literally don't know what, but it's long and confusing and full of a great hair and makeup team.
Walk with me, Reader.
The year was 2006. Somewhere, a 16-year-old Tay-Tay was stretching her slender limbs over a guitar gearing up to set the pop music world on fire. She was... I don't know... lanky? Fair? Whimsical? Trained in Nashville and with an affinity for songwriting, Swift was poised to be a fantastic country singer. Little did we know it would lead us here.
Now, the year is 2017 and Taylor Swift has been busy killing off all the old versions of herself that have emerged in the past 11 years, revealing a sassy, if not threatening, pop princess warrior-villain thing I'm still not sure I understand.
Take a look at her first music video ever, for a song I literally have never heard of once in my whole life, titled "Tim McGraw":
What are some themes you notice? For me, I really picked up on the key notes of nature, youth, and boys with bad haircuts.
Swift will see these themes through many future videos, though things will take a definite turn when we reach her next single, "Our Song." Here, she first introduces what will eventually be a staple for her — a princess/fairy dress.
Princesses, fairytales, and royalty will come into play again down the road with her music video for "Love Story" (which is literally about Romeo and Juliette) and as part of her ensemble for the 2014 cinematic adventure, "Blank Space," a single off her fourth album, 1989.
Here she is as a princess in "Love Story":
And some other form of royalty in "Blank Space":
You can tell she is a princess because of the horse, I think.
The other "character" Swift loved to play was your average girl next door. This is hilarious to me, because she has the legs of a supermodel and the angelic pout of a baby cherub, but sure, we'll call her "normal."
She most embraced this image in her early days in the music video for "Mine" off her third album, Speak Now, and again in the video for "You Belong With Me."
Here she is just being your average guitar-slinging restaurant goer:
And again as a classic nerd from high school:
You can tell she is a nerd because of the glasses. (???)
Still, the last year or two has seen Swift shed her innocent tendrils and twangy voice for a much more – IDK if I'd say tough image, per se – but a decidedly more aggressive persona.
First, she hit us with the pyrotechnics and weapons in "Bad Blood."
And now has unleashed the snake queen and zombie girl in "Look What You Made Me Do."
HELLO, SOMEONE ELSE.
If we can glean any one thing from Swift's music video history and the current PR for Reputation, it's that the woman loves to reinvent herself.
With little public nudges from classic T-Swift feuds like Kanye West's infamous "Imma let you finish" speech, to the ongoing frenemy battle with Katy Perry, Swift appears to be 8 Mile-ing the situation with her latest album. And by that, I mean she is metaphorically freestyle rapping back at us all the nasty things we could say about her.
Ya know, like, in theory.
We can't wait to learn what else she has up her sleeve when the record drops on Nov. 10, and until then, I'll leave you with my favorite Taylor Swift video of all time (specifically because of the animated lion), "Wildest Dreams."