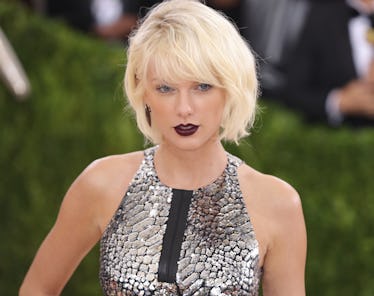 Taylor Swift Finally Dropped Her 'Reputation' Tracklist & The Songs Sound So Dramatic
Neilson Barnard/Getty Images Entertainment/Getty Images
Waiting for Taylor Swift's Reputation album has totally put a damper on my fall season. My PSLs don't even have the same festive flavor they once had because I'm too distracted looking for the next bit of info for Swift's new album. YOU'RE KILLING ME OVER HERE, TAYLOR. Luckily, Taylor Swift's Reputation tracklist is now here and I'm loving the overall badass-ness of this entire album.
The list includes all our favorite already released singles, "Look What You Made Me Do," "... Ready For It," and "Gorgeous." Side note: I so expected "LWYMMD" to be Track 1 instead of its actual spot as Track 6. Swifty, you never cease to surprise me.
One thing that majorly stands out is Swift basically just confirmed that she will indeed have a collaboration track with Ed Sheeran and Future. The rumored tracklist that was floating around Twitter a few weeks back did mention the song "End Game," but had it listed as Track 15. EITHER WAY, I'M SURE IT'S GOING TO BE EVERYTHING AND MORE.
The song I think I'm most excited to hear is "I Did Something Bad." It sounds so juicy and I can already tell I'm going to be obsessed with it. What did you do, Tay? Also, I hope "New Year's Day" is a super romantic song about Swift's rumored boyfriend, Joe Alwyn. This is just one fan's dreams to another.
Needless to say, fans are going crazy for Swift's surprise tracklist release. We all seriously need to bow down to the kween.
People literally lost the ability to type.
Swift definitely loves her fans as much as we love her. The madness all started on Aug. 23 when Swift revealed the name and release date for her new album. Reputation, in its entirety, was set to unleash onto the world Nov. 10. However, Swift didn't leave us high and dry between the original announcement and the actual album release.
Four days after the original news about Reputation, Swift dropped the music video for "Look What You Made Me Do" during the 2017 VMAs. The first single, "LWYMMD" was a big freaking deal. A PR rep from Spotify told Elite Daily that Swift's newest single was streamed over 10. 1 million times IN. THE. FIRST. DAY. To give you an idea: Swift didn't just break a "release day" Spotify record, she actually had the biggest streaming day for a single track in Spotify history. You go, Glen Coco.
Then, as we were all relaxing on Saturday, Sept. 2, Swift randomly dropped "...Ready For It?" The song was a complete surprise to fans, and it dropped in the middle of the No. 1 Alabama versus No. 3 Florida State college football game, which was really unexpected. T. Swift meets football... I'm not mad about it.
While "LWYMMD" is very shady and leather jacket-esque, "...Ready For It?" is extremely flirty, which led fans to hypothesize that the song was about everyone from Swift's rumored boyfriend Joe Alwyn to her ex, Tom Hiddleston, and basically everyone in-between. Swift didn't confirm who it was about so your guess is as good as mine.
Finally, the third single was announced on Oct. 19, just hours before the official release at 12 a.m. on Oct. 20. "Gorgeous" (like all the others) took fans completely by surprise.
Although Reputation will be released in it's entirety on Nov. 10, Swift clearly still has a few last minute surprises in store for us. There is still one more scheduled single release on Thursday, Nov. 9. Swift is planning to unleash a "World Premiere Performance" during ABC's TGIT lineup.
ABC teased the good news early on the morning of Nov. 2, and fans are losing it. Basically, we'll be losing it until the release.
Taylor Swift is just too good to her fans. I love all the releases, teasers, and anticipation. She can do no wrong in my book. You go, Swifty.
Check out the entire Gen Why series and other videos on Facebook and the Bustle app across Apple TV, Roku, and Amazon Fire TV.