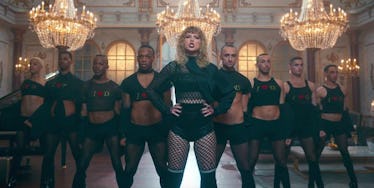 Tiny Detail In Taylor Swift's "LWYMMD" Video Throws Major Shade At Former Squad Members
YouTube
The 2017 VMAs were on Aug. 27, 2017, and a lot of sh*t went down. P!nk gave us some serious nostalgia, Ellen DeGeneres randomly appeared and looked bored, Lorde chose to dance instead of sing, and Taylor Swift released her new drama-filled music video, "Look What You Made Me Do." What you might not have noticed were the names on Taylor Swift's shirt in the video. Pay close attention, Swifty fans. These names explain a lot. There has been lots of speculation about the meaning of T. Swift's new video. Is it an ode to all of her enemies?  Is it all about Kim Kardashian and Kanye West? Is it a Katy Perry dig? According to some fans, her video is throwing serious shade at a lot of people, including her former squad. Ouch. Don't mess with the squad, Taylor. Don't ever mess with the squad.
In the video, Taylor can be seen wearing a similar shirt to the one she wore in her "You Belong With Me" video, only this time her shirt isn't covered in random names of women. In fact, her shirt is covered in names of her current squad. I spotted Selena Gomez, Gigi Hadid, the Haim sisters, Blake Lively, Ryan Reynolds, Lena Dunham, Ed Sheeran, Patrick Stewart, Abigail Anderson, Martha Hunt, Claire Kislinger, and Todrick Hall. Who is the missing squad member? Lorde! Where the F is Lorde's name on her shirt?
Well, for those of you not on top of your pop culture news, Lorde messed up after calling Swift "an autoimmune disease" in an interview with The Guardian back in June of 2017. She said,
It's like having a friend with very specific allergies. There are certain places you can't go together, certain things you can't do. There are these different sets of considerations within the friendship. It's like having a friend with an autoimmune disease.
Yikes. Lorde later apologized for dissing Swift and for being inconsiderate to those suffering from an autoimmune disease, but regardless, Lorde is out of the squad. You mess with Swifty once and you get the boot. It's just how it works.