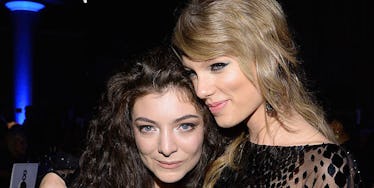 Lorde Apologizes After Receiving Backlash For What She Said About Taylor Swift
Larry Busacca/Getty Images for NARAS
Lorde may never be royal, but she certainly knows how to make a diplomatic apology when called upon by the subjects of Twitter.
Earlier this week, Lorde caused a bit of outrage over some comments she made regarding her famous friendships, like the one she has with Taylor Swift.
In an interview with The Guardian, Lorde opened up about what it's like being BFFs with people like Taylor Swift. She said,
It's like having a friend with very specific allergies. There are certain places you can't go together. Certain things you can't do. There are these different sets of considerations within the friendship. It's like having a friend with an autoimmune disease.
While being mega famous certainly has its drawbacks when it comes to things like flying under the radar and leading a life not documented by paparazzi, I think we can all agree it's not the same as having a disease that seriously affects your health.
And because the internet loves nothing more than to call out celebrities for anything and everything they say, it's no surprise this comment drew serious backlash.
It didn't take long, though, for Lorde to respond with a seemingly very sincere apology.
The 20-year-old singer, who just released her sophomore album, Melodrama, was quick to reply to a Twitter user who called her out for the insensitive analogy.
Stephanie Marie tweeted, "I wonder how @selenagomez feels about this. What an incredibly ignorant analogy to make @lorde.
Her reference to Selena Gomez has to do with the fact that Gomez has been open about her struggle with lupus, which is an autoimmune disease. It's also worth noting Gomez and Lorde and Swift all run in the same circle.
Taking the high road, Lorde tweeted back,
@stefinitely85 didn't mention taylor, but regardless, i f*cked up & that was really insensitive. i'm sorry.
For her part, Stephanie Marie forgave Lorde with a tweet that said,
love you for owning this, queen of apologies! x
It looks like this controversy will be short-lived so we can all go back to enjoying Lorde's album. Twitter can return to calling out Bachelor contestants instead.