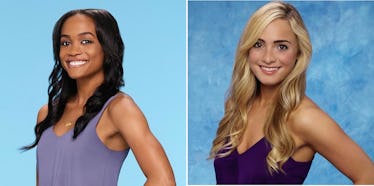 'Bachelorette' Rachel Calls Out Leah From 'The Bachelor' For Insensitive Tweet
ABC
UPDATE: On Wednesday, June 21, Leah Block apologized for her insensitive tweet during The Bachelorette on Monday night. In a post to her Facebook page, she wrote, "I come forward honestly and openly, to extend my sincere apology for the tweet from my account on Monday, June 19th regarding the current season of The Bachelorette." She went on to say she regards the tweet as a "personal failure."
EARLIER: When will the casts of reality TV shows (and anyone even remotely in the public eye for that matter) learn that screenshots live forever?
More importantly, perhaps we could all simply try not being racist, sexist, or callous. Just a thought.
Monday night brought us week four of Rachel Lindsay's season of The Bachelorette, and things really started to heat up – but not just on screen.
There was a lot of chatter on Twitter about the episode, of course, but it was also clear the Bachelor in Paradise controversy is still fresh on fans' minds.
Then, there was a tweet from Leah Block, a contestant on Ben Higgins' season of The Bachelor, which was seriously offensive.
The tweet, which has since been deleted along with her entire account, read,
I'm sitting here watching @BacheloretteABC and my roommate just sat down on the couch and said, 'What is this? @LoveAndHipHop_?' DEAD.
The comparison of this season of The Bachelorette, which features a black woman for the first time ever, to Love & Hip Hop, a VH1 show that features a predominantly black cast, understandably did not sit right with the Twitterverse.
It wasn't just fans who had a problem with the tweet, either.
Astrid Loch, another former Bachelor contestant, fired back at Block, writing, "Are you watching with Lee?"
If you haven't been following all the drama this season, you might not understand the clapback, so allow me to explain.
Fans are not here for Lee Garrett after some of his past tweets, which include claims that Black Lives Matter is a terrorist organization and all feminists are ugly, were exposed for all the internet to see.
Lee has now not only been dubbed the "villain" of the season, he is also known to much of Twitter as the "racist" contestant.
So, yeah. That reply was quite a burn. Things didn't stop there, though, as the Bachelorette herself, Rachel Lindsay, got involved. She tweeted,
Let me know if she wants to meet Lee... they sound like they would have a lot in common. #ihavetimetoday
Not only does this perfectly shut down Leah Block's remark, it also gives a little spoiler for what's to come on the show.
The fact that Lindsay also made a reference to Lee must mean one thing: He's going to be packing his bags soon.