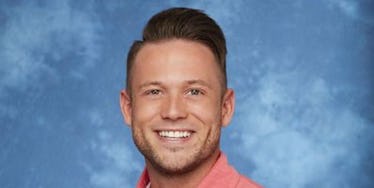 'Bachelorette' Star Lee Garrett Is Being Called Out For Racist And Sexist Tweets
ABC/Craig Sjodin
Bachelorette contestant Lee Garrett has made it his business to expose "Whaboom" Lucas for having bad character on the reality dating show, but it looks like Garrett has his own integrity deficiency according to his social media talk.
Elite Daily already predicted Garrett would be the villain of The Bachelorette, and apparently, the assumption was a little too on target.
Garrett is in hot water on the internet for some questionable tweets he shared, which were exposed by Huffpost. These tweets allegedly hadn't been deleted as of Wednesday morning.
And while his Twitter account is private, those screenshots are forever.
Apparently, Garrett has a problem with a few different groups in America.
Need a brief synopsis of his tweets? He sees Black Lives Matter as a terrorist organization ("thousands sign petition to recognize #BLM as terrorist after Dallas"), and he's #TeamNixon. ("[He] should be issued an apology.") He also believes all feminists are ugly. ("Guys... when was the last time you saw a pretty feminist?")
Oh, and he also thinks that Hillary Clinton is no better than O.J. Simpson, the ex-football player who was tried and acquitted for a murder that a lot of people still think he did, including Caitlyn Jenner.
And this is the guy who somebody at ABC thought might make a great match for their first black bachelorette, Rachel Lindsay!?
Twitter is already calling him and ABC to the carpet.
Elite Daily reached out to ABC, and the network declined to comment. Additionally, Elite Daily reached out to Warner Brothers for comment, but the request had not been returned at the time of publication.
And this is the perfect lesson on when it is appropriate to judge someone by their tweets.
Twitter has gotten quite a few public figures in hot water over posts that were read as racially insensitive or straight up racist.
Think Demi Lovato, Steve King, French Montana, and Ivanka Trump.
As a general rule of thumb, it's probably not always fair to judge someone's character by a tweet they posted in 2007 when they were likely young and more foolish than racist.
People grow up, learn new ways of thinking, and change.
But when those tweets are recent and consistently laced with bigotry (Garrett's tweets are allegedly from just last year), that's when it's time to serve some serious side eye.
Since Rachel Lindsay is already engaged to someone from the show, let's hope her fiancé isn't this guy.
If so, they're going to need another heart-to-heart ASAP.
Bye, Garrett!