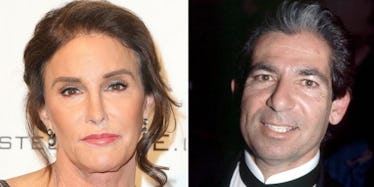 Caitlyn Jenner Admits Robert Kardashian Basically Told Her OJ Simpson Was Guilty
REX/Shutterstock
Caitlyn Jenner is blowing the lid off the high-profile scandal that first thrust the Kardashian family into fame.
No, not the sex tape. Before that, there was the infamous OJ Simpson trial, in which Kris Jenner's late ex-husband Robert Kardashian successfully defended Simpson on two counts of murder.
Now, Caitlyn is coming forward to reveal Robert as good as admitted to her he knew OJ was guilty, but defended him in the murder trial anyway.
According to RadarOnline, Jenner claims in her upcoming memoir Kardashian had said to her, "I would've been OK with it if they had gotten him in the first trial," seemingly admitting Kardashian knew OJ committed the murders of Nicole Brown Simpson and Ron Goldman and was hoping the football star got convicted.
She writes,
The implication was obvious that he believed OJ was guilty.
Of course, OJ was famously found not guilty in the 1994 murder trial, though he was later found responsible for both deaths in a 1997 civil trial.
Strangely, the trial has become a buzzy topic of conversation recently due to the success of FX's "American Crime Story: The People v. OJ Simpson" and the Oscar-winning ESPN doc "OJ: Made in America."
Caitlyn goes on to affirm her long-standing belief that OJ was guilty, saying in no uncertain terms she believes "he got away with two savage murders." And her extreme distaste for Simpson goes beyond just the fact that she believes he got off murder charges.
She writes of OJ,
He was the most narcissistic, egocentric, neediest asshole in the world of sports I had ever seen, and I had seen a lot of them.
And things just get crazier! Caitlyn also claims she thinks Robert Kardashian actually agreed to defend OJ despite knowing him to be guilty simply as a jab at his ex-wife, Kris Jenner.
Nicole Brown Simpson was a close friend of Jenner's, and at the time, Kris had recently divorced Kardashian and begun dating Caitlyn, then called Bruce Jenner.
Caitlyn speculates Kardashian's jealousy over Kris' new relationship motivated him to defend the man who killed her friend. I know — it's WILD! She writes,
I wonder if it was his way of saying to her what I think she was saying to him when she married me: a big f— you.
It sounds like this book is going to be a massive tell-all in the truest sense of the word. "The Secrets of My Life" is being released on April 25.
Citations: Caitlyn Jenner Bombshell — Robert Kardashian Confessed To Me He Knew O.J. Was Guilty (RadarOnline)