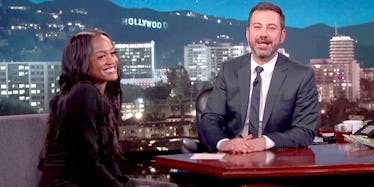 'Bachelorette' Rachel Lindsay Shares Details On Her Engagement In New Interview
ABC
Bachelorette Rachel Lindsay revealed she's engaged to one of the show's contestants last night in an interview with Jimmy Kimmel.
The new season of The Bachelorette premiered last night on ABC, and the Bachelorette herself was a guest on Jimmy Kimmel Live! just after the show aired.
According to the 31-year-old, this is the first time a Bachelor or Bachelorette has announced they are engaged to one of the show's contestants before the show premiered.
In the video, Kimmel asks, "Has anyone ever announced this before the show started?" Lindsay responded,
No, no, but we joke and say this is a season of firsts. And I think they were like, 'You know what, you're so excited, you're glowing, just do it.'
According to Lindsay, the show finished filming 10 days ago, so she and her mystery fiancé have been officially engaged for a little over a week.
They apparently had "a couple of days together" post-engagement, but then went their separate ways. And according to Bachelorette rules, they won't be reunited until the entirety of the season is finished airing.
Don't worry, I'm sure it's not this weird-ass doll that made an appearance on the premiere.
In case you missed it, Ben Higgins and Lauren Bushnell recently broke off their engagement, like most Bachelor couples do.
Knowing that, Kimmel said, "So you haven't had a chance to reconnect, and then break up, and then be on the cover of US Weekly?"
She laughed and responded with, "I don't plan on a breakup."
Let's hope this season really is a "season of firsts" like Lindsay says, and they'll actually end up getting married and not breaking up, like, two hours after they get engaged.
Lindsay, who is a civil defense attorney, has a large pool of guys to choose from this season. One of them says his profession is "Tickle Monster," so I hope to dear god above that guy is not her fiancé.
RACHEL, YOU ARE A LEARN-ED LAWYER. DO NOT MARRY SOMEONE WHO SAYS HIS JOB IN LIFE IS "TICKLE MONSTER."
Especially when there are other lawyers on the show to choose from!!!
Kimmel grilled her a little about her ability to keep secrets, but since she's a civil defense attorney, she feels like she's "groomed" for keeping things confidential. "I feel like I was groomed for this," she said.
She added that her family knows who her fiancé is, but she's only worried about her sister revealing the news, saying, "She's the weakest link. She'll kill me for saying that."
Lindsay's pupper, Copper, was on the show last night as well and will apparently be making lots of appearances throughout this season.
If I were in the Bachelor Mansion, that dog would literally be the only thing I'd hang out with cause ~I wouldn't be there to make friends~.
Unless that friend is a dog, in which case, that dog is going to be my best f*cking friend on the planet.
You can watch The Bachelorette every Monday at 9 p.m. ET on ABC.
Citations: Rachel Lindsay on Her Bachelorette Engagement: 'I Don't Plan on a Breakup' (People)