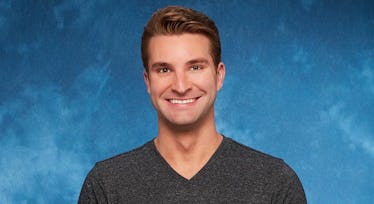 This 'Bachelorette' Contestant Said His Job Is 'Tickle Monster' And We're All Cringing
ABC
Chris Harrison revealed the cast of Rachel Lindsay's Bachelorette season today, and fans are getting pumpppeddddd.
Harrison has been teasing fans about the cast reveal on social media for the last week, and now we finally know who will be competing for Rachel Lindsay's ~love~ this season.
Literally all of these men are more beautiful than anyone I've been on a date with. (LMAO, just kidding. I don't go on dates.)
However, 31-year-old contestant Jonathan had to be a funny guy and say he has made a career in being the Tickle Monster. Oh, man.
Other than Jonathan, Rachel actually has some really smart and gorgeous guys to choose from. Her lineup includes Blake K., the U.S. Marine veteran, Grant, an emergency medicine physician, and Bryce, a firefighter.
The new season of The Bachelorette airs this Monday, May 22 on ABC, so it's been shocking to viewers that we haven't learned who's in the cast until less than a week before.
The Bachelor and Bachelorette teams usually don't wait this long to announce the cast, but I guess they're trying to play into some ~mystery~ this season.
We first met Rachel Lindsay when she was a contestant on Nick Viall's season of The Bachelor.
Obviously, he didn't choose her, so now she's taking the stage as the first black Bachelorette in the show's history.
Nick Viall is currently engaged to Vanessa Grimaldi, but, like, they're legitimately miserable. I'm 99.9 percent sure their relationship is fake, seeing as Nick's one true love is reality TV itself.
Why else do you think he went on Dancing With The Stars literally right after he got engaged on The Bachelor? It's cause he doesn't want to hang out with his fiancé because their relationship is fake!!
Anyways, I hope Rachel Lindsay has fun this season. These guys are really hot.