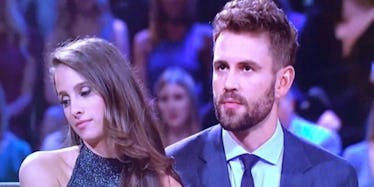 We Need To Talk About How Miserable 'The Bachelor' Nick And Vanessa Are
ABC
Last night, season 21 of "The Bachelor" ended and Nick Viall was officially free to begin a life of abject misery with new fiancée and season winner Vanessa Grimaldi.
For the fourth time on national television, Nick confirmed he's trash at love and picked Vanessa — the woman he spent a full season crying and bickering with — over Raven — the woman who professed her undying loyalty to him multiple times.
Nick might not be able to profess his love for the right woman, but that's OK. There are plenty of other things Nick loves just fine: short shorts, drama, women who are too hot for him, that Kirk Cameron haircut, creepy touching, weeping, whiskey, turtlenecks, etc.
The real tragedy wasn't the fact Nick chose the wrong woman, though.
The real tragedy was how loyal viewers were subjected to having our intelligence insulted by the very couple who wasted an entire season of our Monday nights.
Nick and Vanessa sat in front of Chris Harrison during the live "After The Final Rose" broadcast and, despite being in total visible agony, claimed they were deeply in love.
The thing is, Twitter does not stay silent for anyone. Fans of Bachelor Nation hopped right online to share first impressions of the angst circus ABC tried to sell as true romance Monday night.
Raven, Nick's runner-up, made it out of the season unscathed and free of an engagement that, as of last night, looks like prison (if everyone in prison was always a little drunk and dressed like figure skaters).
Though fans couldn't celebrate Nick finding love, we were more than happy to celebrate Raven's freedom and future stint on "Bachelor in Paradise."
Congratulations, Raven. In fact, congratulations to every woman eliminated from this season.
Whether you find love or die alone, your ability to dodge this particular bullet is the grandest prize you'll ever receive.