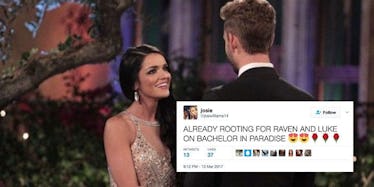 Twitter Really Wants 'Bachelor' Runner-Up Raven To Date Luke Pell In 'Paradise'
ABC/Twitter
In the least-surprising finale of "The Bachelor" ever, Nick Viall proposed to Vanessa Grimaldi, leaving runner-up Raven Gates out in the cold.
Seriously, pretty much everyone knew that was coming ever since ABC spoiled its own show and announced Rachel Lindsay as the next "Bachelorette."
So while it wasn't exactly a shocking ending, there was one surprise left.
Raven, the 25-year-old boutique shop owner and recent "Bachelor" dumpee will continue her search for reality TV love on "Bachelor in Paradise."
In the "After the Final Rose" special, Raven told Nick she was happy for him for finding love with Vanessa.
She said,
I'm happy that you found your happy ending and that you weren't rejected.
(Yet — weren't rejected yet, Raven. Give it time.)
But then Raven had some exciting news that had nothing to do with Viall — she's going to "Paradise!"
Raven added,
Hey, if anything, I know that if Nick can go to Paradise and do this experience and find love, that I can too.
To which host Chris Harrison asked,
So we'll see you in Paradise?
Raven confirmed the news with an enthusiastic, "Yeah!"
We don't know much else about the upcoming 2017 cast of "Bachelor in Paradise," but that didn't stop Bachelor Nation from making plans for Raven.
In fact, even though we don't even know if he's going to be on "Paradise" or not, everyone's already making plans for Raven to hook up with the one and only, Luke Pell.
The 32-year-old singer and former "Bachelorette" contestant was originally suppose to be this year's "Bachelor," but lost to Viall in a last-minute switch.
Now that we know Raven will be on "Paradise," people are ready to see her move on to the arguably superior version of Viall.
Are people just saying this just because they both have southern accents? Honestly, maybe.
But think how cute they would sound together! You can count me in on this ship.
Citations: Raven Paradise (Twitter)