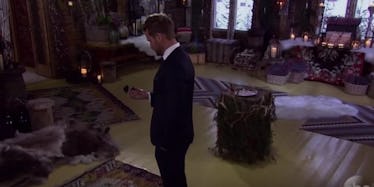 Nick Viall Picked 'The Bachelor' Winner And The Two Are Officially Engaged
ABC
No more tears now, Nick.
"The Bachelor" officially ended its 21st season, which was marked with highlights that included Corinne, Corinne's nanny Raquel, cheese pasta... and that's about it.
My personal opinion aside, let's get into those sweet deets about whom Nick chose.
Are you prepared? Get ready to play "O Canada" on blast because...
Nick Viall asked Vanessa Grimaldi to marry him, and she said yes (despite her hang-up about Nick's hesitance to move above the border).
Nick told People,
While I certainly had my fears [of being the Bachelor], I still followed my heart and put myself at risk. I'm glad I did.
According to Nick, he was pretty worried about popping the question in the days before the finale. He said,
I was very nervous. It was a very long day and it wasn't too long after saying goodbye to Raven. So, there were emotions from that. I think in that world the engagement day is not your ideal day just because it's 'The Bachelor.'
What? Uh, Nick, if my future engagement doesn't get high ratings, I'm calling it off.
Nick added he gained a moment of "clarity" before asking Vanessa to spend the rest of his life with him,
I think most people when they get engaged there's a lot of great, exciting anticipation and for me that was a very emotional roller coaster. Once I saw Vanessa, I kind of calmed my nerves. For me it was that moment where I had clarity. It was a calming feeling of knowing I made the right decision. It was all worth it! All the tears and all the ups and downs, it kind of just felt like, finally I got to the place that I hoped to get to.
Quoth the Raven? "Never more."
Yes. You. Do. That.
On the subject of Raven, whom he sent home in the finale, Nick said,
As much as I cared about Raven, I felt like the answer became more and more clear that I was Vanessa. I felt like I was fighting my feelings for Vanessa for a long time because there were other women involved. However, once I was kind of able and free to kind of make my choice, I felt like my heart knew for a while.
He sounds definitely in love, even though we're all definitely thinking about this...
...and like a thousand other moments where he was hitting on all the other ladies of "The Bachelor."
Vanessa admitted she had some reservations, but according to her, they were good ones,
I don't know if something had shifted in his relationship with Raven, so there were doubts in my mind. I didn't think any less of my relationship with Nick. I knew that what we had was special. Going into proposal I was hoping that he was going to get down on one knee and he did!
I honestly wish Nick and Vanessa all the best. Hopefully, Nick has finally broken his heartbreaking curse streak of getting close to love, but missing out in the end.
Citations: Nick Viall Is Engaged! And the Lucky Lady Is … (People)