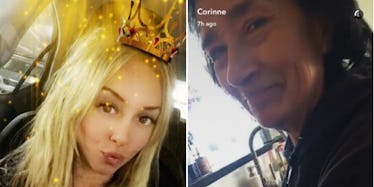 Corinne Cooks Cheese Pasta On Snapchat So You Can Eat It During 'The Bachelor'
Snapcha
It's Monday night, you're cozied up on your couch to watch a 36-year-old man choose a 20-something to make his wife on "The Bachelor," you're craving some carb and cheese combo... but then you realize your nanny has off tonight.
Ugh.
Also, you're an adult who should be capable of making your own food.
Double ugh.
Thankfully, "Bachelor" fan favorite Corinne Olympios created an easy-to-follow Snapchat Story to make cheesy noodles. Her nanny Raquel made it, but Corinne hit record, OK?
Step one: Find your nanny, despite being 25 years old.
Raquel, Corinne's real life nanny who still makes her bed, is right by her side to make cheese pasta!
Corinne previously opened up to the other contestants about Raquel,
Raquel, like, keeps my life together, OK? She makes sure that my bed is made every morning, makes my cucumber and my, like, vegetable slices for lunch. She makes me lemon salad. She knows exactly how much oil, lemon and garlic salt I like… I have tried so many times to make cheese pasta, and I can't make cheese pasta like her.
NOBODY MAKES IT LIKE RAQUEL, BUT WE CAN TRY.
Step two: Get yo'self some cheese.
Now, Corinne has said she normally prefers an elbow-shaped macaroni, but she opted for this shape because it's made of quinoa and is a little bit healthier.
She also said she likes shredded mozzarella, but this Mexican blend will probably do well!
Step three: Bring that water to a rolling boil, just like the box says.
Literally, just follow the instructions on the box.
Step four: Pay attention! Here's where it gets tricky! Add that cheese.
Just stir it in while it's hot until it's all melted.
Step five: Serve.
Oh...
That's it?
It's just... the way Corinne made it sound I thought it would include more than two ingredients.