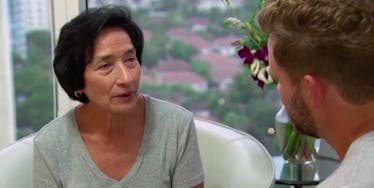 'Bachelor' Nick Viall Gets Roasted By Corinne's Nanny In New Show Clip
ABC
CORINNE'S NANNY IS ABOUT TO GO HAM ON YO' ASS, NICK VIALL.
The upcoming episode of "The Bachelor" is about to be crazyyyyyyy as fuck.
Grab your cucumber slices, cheese pasta and take a seat, my friends. You're in for one hell of a ride with mah main squeeze Raquel.
In the new episode promo, we get to see Nick embark on hometown dates.
He'll visit the families of the remaining four contestants: Corinne, Raven, Rachel and Vanessa.
He'll meet the mothers, the fathers and the nanny... yeah, there's only one of those and her name is Raquel. SHE IS OUR SUNSHINE ANGELFACE, RAQUEY!
In the video above, Raquel questions the shit out of Nick.
She wants answers and she wants them now.
We only get to see one, quick interaction between the two, but it's enough to know their convo is gonna be straight fire.
Raquel asked Nick,
What is your intention with her?
GET DIRTY, RAQ.
This will be the first time Corinne's nanny makes an appearance since the first episode of the season.
Yeah, it's been a while.
Raquel made headlines instantly when the world found out Corinne, a 24-year-old woman who runs a multi-million dollar company, needs a nanny to take care of her.
A lot of people think it's weird and sad, but I think it's kind of cool.
And Corinne SWEARSSSSS Raquel loves her job and life and family. We all obviously believe Corinne, right??
The contestant told the other ladies,
[Raquel] just does it. You know what, it makes her happy, and I'm not going to stop a woman's happiness.
Amen.
Whether Raquel loves her life or actually hates it, I'm excited to see her in her natural habitat: making cheese pasta and picking up Corinne's dirty underwear.
Nick, I hope you're ready for this!
Citations: Nick Viall Meets Corinne's Nanny (People)