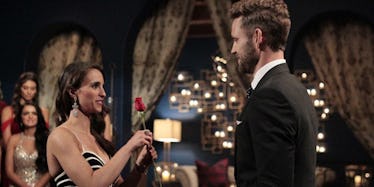 'Bachelor' Star Nick Viall Might Not Choose Vanessa For A Very Dumb Reason
ABC
OK, so, I'm pretty sure a season of "The Bachelor" is shot in about two months so networks can continue to pump out as many quality moments as they can in the shortest amount of time to make the most money.
Imagine if a girl you had been seeing for TWO MONTHS, while you were also dating a ton of different people, asked you to move to a different country with her?
What? Honey, no. That's literally what an insane person would ask.
So, Nick -- I get it. But this is also a girl whom you made out with after she threw up on a date.
I live in sunny LA, but if someone asked me to make out with them after they threw up OR move to Canada, pack my bags, I'm heading north.
In a sneak peek of Monday's episode, Vanessa Grimaldi asks Nick Viall a huge question.
Vanessa says,
Nick is someone that I can actually picture spending the rest of my life with. But at the same time, we have that sort of relationship where our conversations are always so heavy. Today I felt like Nick was questioning whether or not he wants to be as close to my family as I am. It's been upsetting me.
During their hometown date in Vanessa's native Montreal, Nick met, like, her whole family -- her siblings, aunts, uncles, cousins and grandparents.
Vanessa continued,
Is there anything that you would feel uncomfortable compromising on? Is moving for you something that you don't see yourself doing?
Viall hesitated and finally answered,
I've moved a lot. I've never imagined living in Canada. And I'll be honest, that's not easy for me to picture. I hope that's not a non-negotiable, but I think I would do anything for the woman that I love.
Nick then added,
Not to sound corny, but I'm really proud to be an American.
Vanessa snapped back,
And I'm very proud to be a Canadian.
Nick, WTF? With free health care and sexy prime minister Justin Trudeau, what's not to love?
Citations: The Bachelor's Nick Viall Hesitates to Answer Vanessa's Question About Moving to Canada: 'That's Not Easy for Me to Picture' (People)