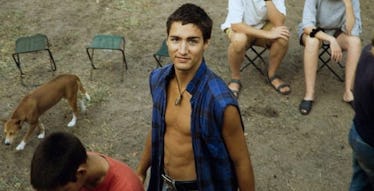 Pics Of Young Justin Trudeau Will Make You Forget All About Joe Biden
Twitter
Step aside, young Joe Biden. It's young Justin Trudeau's turn to shine.
We're all aware that Justin Trudeau is one of the more attractive world leaders in politics right now. Overall, he's pretty easy on the eyes, and just the other day, we showed you how ridic dat donk is.
Now, the internet has blessed us with pictures of the Canadian prime minister back in his true prime.
Be still, my beating heart.
If I hit up Young Trudeau (best rapper name ever?) with that 1:37am "u up?" text,  do you think he'd show up in my bed wearing that beautiful, ripped-apart flannel shirt? Oof.
I'm getting a very strong Paolo Valisari vibe (aka the heartthrob-turned-jerk in "The Lizzie McGuire Movie").
I definitely see the Richard Gere comparison. I also see young Justin Trudeau in my bed, spooning me to sleep.
Anybody else?! Ugh, this is hitting me in all my nostalgic, prepubescent feels.
The word "daddy" just involuntarily escaped my lips.
Currently purchasing my one-way ticket to Canada, peace out, y'all.
No one has thirsted this hard over Justin Trudeau since Ivanka Trump gave him that long, yearning look last month during a roundtable discussion on the advancement of female entrepreneurs and business leaders.
Sigh, why is it that we're so easily infatuated with the younger versions of our politicians? We've fawned over young Joe Biden, young Tim Kaine and now young Justin Trudeau.
Perhaps these pictures serve to humanize them to us. Instead of seeing them as these politically correct robots making empty promises to the nation, we see them in a more relatable light.
Regardless, just know this: If you're thinking about going into politics sometime in the future, you can be sure the internet will dig up old pictures of your younger self, and we will drool over them.