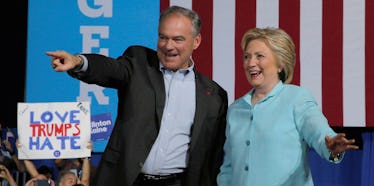 Turns Out Hillary Clinton's Running Mate Was Super Hot When He Was Young
REUTERS
Senator Tim Kaine of Virginia gave a speech at the Democratic National Convention in Philadelphia on Wednesday night.
Kaine was announced as Hillary Clinton's running mate last week. He made his appearance at the DNC on Wednesday ostensibly to introduce himself to voters.
During his speech as the vice president nominee, he spoke about his mission work in Honduras (including a brief moment where he spoke in Spanish), his work as a civil rights lawyer, and how he met his wife, Anne.
Kaine's speech was a biography of himself, which was especially helpful for voters. Kaine, obviously, isn't as well known as, say, Clinton or Donald Trump. So he explained his political resume to put forward why he should be trusted with a vote.
This DNC appearance was supposed to be an introduction to Tim Kaine. But instead, it was an introduction to young Tim Kaine. And turns out young Tim Kaine is super freaking hot.
Before Kaine spoke, a video played at the DNC about the senator. This video included old pictures of Kaine. Check it out:
Yeah, there was one very specific point about Kaine that stuck out to most people watching.
Hot young Tim Kaine is following in a very important vice presidential tradition.
Just as a reminder, young Joe Biden is super hot too. America!