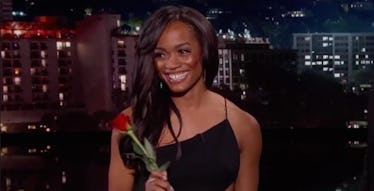 The 'Bachelorette' Cast Is Here! Check Out The Guys Competing For Rachel's Heart
ABC
It's finally that time again, folks!
We only have to wait a few more days to dive back into an all new season of "The Bachelorette," but now we can officially start choosing our favorites and drafting those fantasy league teams. (Yes, "Bachelor" Fantasy League is a real thing).
ABC finally revealed the 31 men who will be competing for Rachel Lindsay's heart on Season 13 of "The Bachelorette," which will kick off on Monday night. And judging from the new crop of guys, it looks like Rachel has a few interesting choices...
Check out Chris Harrison's reveal on Facebook Live, and then get a closer look through all the new guys and start picking out your faves below!
Adam
Age: 27
Occupation: Real Estate Agent
Alex
Age: 28
Occupation: Information Systems Supervisor
Anthony
Age: 26
Occupation: Education Software Manager
Blake E
Age: 31
Occupation: Aspiring Drummer
Blake K
Age: 29
Occupation: US Marine
Brady
Age: 29
Occupation: Male Model
Bryan
Age: 37
Occupation: Chiropracter
Bryce
Age: 30
Occupation: Firefighter
Dean
Age: 26
Occupation: Startup Recruiter
DeMario
Age: 30
Occupation: Executive Recruiter
Eric
Age: 29
Occupation: Personal Trainer
Fred
Age: 27
Occupation: Executive Assistant
Grant
Age: 29
Occupation: Emergency Medicine Physician
Ignacio aka Iggy
Age: 30
Occupation: Consulting Firm CEO
Jack
Age: 32
Occupation: Attorney
Jamey
Age: 32
Occupation: Sales Account Executive
Jedediah
Age: 35
Occupation: ER Physician
Jonathan
Age: 31
Occupation: Tickle Monster
Josiah
Age: 28
Occupation: Prosecuting Attorney
Kenneth
Age: 31
Occupation: Senior Inventory Analyst
Kenny
Age: 35
Occupation: Pro Wrestler
Kyle
Age: 26
Occupation: Marketing Consultant
Lee
Age: 30
Occupation: Singer/Songwriter
Lucas
Age: 30
Occupation: Whaboom
Matt
Age: 32
Occupation: Construction Sales Rep
Michael
Age: 26
Occupation: Former Pro Baseball Player
Milton
Age: 31
Occupation: Hotel Recreation Supervisor
Mohit
Age: 26
Occupation: Product Supervisor
Peter
Age: 30
Occupation: Business Owner
Rob
Age: 30
Occupation: Law Student
Will
Age: 28
Occupation: Sales Manager