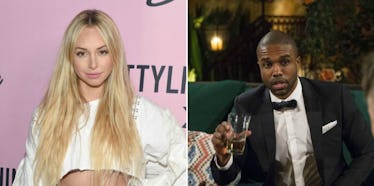 'Bachelor In Paradise' Wasn't Addressed On 'Bachelorette' But Fans Didn't Forget
Matt Winkelmeyer/Getty ImagesABC
Bachelor Nation is no stranger to drama when it comes to the beloved reality show franchise, but last week, that drama took on a much more somber note.
In a historical first for the series, this season of Bachelor in Paradise was canceled following an allegation of "misconduct" during filming.
The incident reportedly occurred between Corinne Olympios and DeMario Jackson. While we still don't know all the facts -- and it's important to remember a lot of the information being shared on the internet has not been confirmed -- we do have statements from both Olympios and Jackson regarding what happened.
On June 14, DeMario gave E! Online the following statement about the Bachelor in Paradise suspension and claims about his involvement:
It's unfortunate that my character and family name has been assassinated this past week with false claims and malicious allegations. I will be taking swift and appropriate legal action until my name is cleared and, per the advice of legal counsel, will be seeking all available remedies entitled to me under the laws.
Corinne also released a statement to TMZ. She said: 
I am a victim and have spent the last week trying to make sense of what happened on June 4. Although I have little memory of that night, something bad obviously took place, which I understand is why production on the show has now been suspended and a producer on the show has filed a complaint against the production. As a woman, this is my worst nightmare and it has now become my reality. As I pursue the details and facts surrounding that night and the immediate days after, I have retained a group of professionals to ensure that what happened on June 4 comes to light and I can continue my life, including hiring an attorney to obtain justice and seeking therapy to begin dealing with the physical and emotional trauma stemming from that evening.
This all comes in the midst of Rachel Lindsay's season of The Bachelorette, on which DeMario Jackson was a (controversial) contestant.
A new episode of The Bachelorette did not air last week due to the NBA finals, so Monday night's week-four episode was the first new airing since the sensitive Bachelor in Paradise news broke.
While host Chris Harrison issued a statement last week, many fans tuned in Monday night expecting to see the controversy addressed by the producers or the network somehow before the episode.
While no additional announcement or statement was made by ABC, fans couldn't help but focus on Bachelorette in Paradise during the airing of The Bachelorette. 
In a statement, Warner Bros. told Elite Daily,
We have become aware of allegations of misconduct on the set of Bachelor in Paradise in Mexico. We have suspended production and we are conducting a thorough investigation of these allegations. Once the investigation is complete, we will take appropriate responsive action.
Harrison's initial statement read:
By now, no doubt, you have heard that we have suspended production on this season's Bachelor in Paradise. I can confirm to you that this is sadly the case. Out of respect to all involved, there's only so much I can and will say at this time. Normally with a situation like this I would not say anything until the incident is fully resolved, but with all the rumors and misinformation being put out there, I don't find that to be possible anymore. Let me start by saying the safety and care of the cast and crew of our show is of the utmost importance to us. It is with this thought in mind that we made the decision to suspend filming. An investigation into the situation was started immediately. Warner Bros. is handling the details of that investigation. They're moving quickly to gather all the facts, and once that's done, a clear, concise decision can be made about where we go from here.
Regardless of more information from the producers or the network, it's clear Bachelor Nation has the controversy on their minds and it's definitely taking its toll on Rachel Lindsay's season.