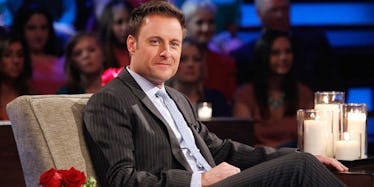 Chris Harrison Speaks Out After 'Bachelor In Paradise' Suspension: "We're Sorry"
ABC
Following the shocking suspension and rumored cancellation of Bachelor in Paradise earlier this week, the face of Bachelor Nation is finally speaking out about what really happened to bring the show to a screeching halt just days into production.
Bachelor host Chris Harrison released a statement to People discussing the the suspended production of Bachelor in Paradise and the future of the series as a whole. According to Chris, the public doesn't have the full story about what happened just yet, and despite rumors to the contrary, neither the season or the series have been officially canceled yet.
Harrison's statement that "the rumors and misinformation" about what actually happened to incur BIP's suspension comes after various reports that a filmed sexual situation allegedly between contestants DeMario and Corinne went too far for the comfort of one producer, who is now reportedly suing the show for misconduct.
Update: On June 14, DeMario Jackson gave E! Online the following statement about the Bachelor in Paradise suspension and claims about his involvement: 
It's unfortunate that my character and family name has been assassinated this past week with false claims and malicious allegations. I will be taking swift and appropriate legal action until my name is cleared and, per the advice of legal counsel, will be seeking all available remedies entitled to me under the laws.
Corinne also released a statement to TMZ on Wednesday. She said: 
I am a victim and have spent the last week trying to make sense of what happened on June 4. Although I have little memory of that night, something bad obviously took place, which I understand is why production on the show has now been suspended and a producer on the show has filed a complaint against the production. As a woman, this is my worst nightmare and it has now become my reality. As I pursue the details and facts surrounding that night and the immediate days after, I have retained a group of professionals to ensure that what happened on June 4 comes to light and I can continue my life, including hiring an attorney to obtain justice and seeking therapy to begin dealing with the physical and emotional trauma stemming from that evening.
Earlier: Elite Daily reached out to ABC and Warner Bros. for comment regarding the reports. Warner Bros. told Elite Daily:
We have become aware of allegations of misconduct on the set of Bachelor in Paradise in Mexico. We have suspended production and we are conducting a thorough investigation of these allegations. Once the investigation is complete, we will take appropriate responsive action.
Despite numerous outlets reporting similar stories from sources about this event, Harrison affirms we still don't know everything that went down to bring on the suspension in production.
Read Chris Harrison's full statement on the Bachelor in Paradise suspension below:
By now, no doubt, you have heard that we have suspended production on this season's Bachelor in Paradise. I can confirm to you that this is sadly the case. Out of respect to all involved, there's only so much I can and will say at this time. Normally with a situation like this I would not say anything until the incident is fully resolved, but with all the rumors and misinformation being put out there, I don't find that to be possible anymore. Let me start by saying the safety and care of the cast and crew of our show is of the utmost importance to us. It is with this thought in mind that we made the decision to suspend filming. An investigation into the situation was started immediately. Warner Bros. is handling the details of that investigation. They're moving quickly to gather all the facts, and once that's done, a clear, concise decision can be made about where we go from here.
There are a lot of competing details in the various press accounts of the incident. And there's a lot of misinformation out there too. We urge everyone to be patient until the investigation is complete. I know in this day and age we want — and even expect — immediate answers, but in this case, it's just not possible. So again, I urge you to please be patient and respect the privacy of the parties involved. I will keep you as informed and up to date as I possibly can. We're sorry for any inconvenience and disappointment this may have caused the cast, the crew and our loyal fans. It is my sincere hope that we can come to a quick resolution on this and get back to work very soon.
Probably the best part of Chris Harrison's statement for Bachelor Nation fans is he reveals Warner Bros. has not yet canceled this season of Bachelor in Paradise.
So, there may still be some hope for us to get some BIP in 2017.