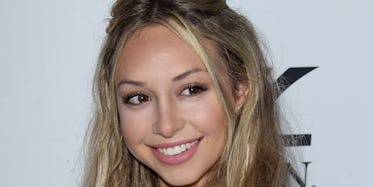 People Are Already Blaming Corinne For 'Bachelor In Paradise' Misconduct Allegations
Shutterstock
Bachelor in Paradise filming has recently been suspended after allegations of sexual assault between DeMario Jackson and Corinne Olympios were brought to the attention of show officials, TMZ reports.
Update: On June 14, DeMario Jackson gave E! Online the following statement about the Bachelor in Paradise suspension and claims about his involvement: 
It's unfortunate that my character and family name has been assassinated this past week with false claims and malicious allegations. I will be taking swift and appropriate legal action until my name is cleared and, per the advice of legal counsel, will be seeking all available remedies entitled to me under the laws.
Corinne also released a statement to TMZ on Wednesday. She said: 
I am a victim and have spent the last week trying to make sense of what happened on June 4. Although I have little memory of that night, something bad obviously took place, which I understand is why production on the show has now been suspended and a producer on the show has filed a complaint against the production. As a woman, this is my worst nightmare and it has now become my reality. As I pursue the details and facts surrounding that night and the immediate days after, I have retained a group of professionals to ensure that what happened on June 4 comes to light and I can continue my life, including hiring an attorney to obtain justice and seeking therapy to begin dealing with the physical and emotional trauma stemming from that evening.
Earlier: After the complaint was filed, Warner Bros. immediately released both cast members from the show and began their own investigation into the alleged "misconduct."
Elite Daily has reached out to ABC and Warner Bros. for comment. Warner Bros. responded with the following statement:
We have become aware of allegations of misconduct on the set of Bachelor in Paradise in Mexico. We have suspended production and we are conducting a thorough investigation of these allegations. Once the investigation is complete, we will take appropriate responsive action.
Elite Daily has also reached out to DeMario and Corinne's teams regarding the allegations, but did not hear back at the time of publication.
Even though the details of what actually happened are still unknown, Corrine is already being blamed by several social media users for whatever it is that might have happened.
One Instagram user commented on Corinne's most recent post,
Skank! As if she is the cause of BIP being cancelled!!! Why would they invite her, it was painful enough watching her on the Bachelor SMFH.
Another user chimed in, saying,
Consent? Puhlease people. She's trash plain and simple. She's all about the 'wow' factor and she got what she was looking for. Her 5minutes of fame is almost up. Bye girl
One Instagram user also claimed Corinne wasn't the one to blame when she admitted she wasn't surprised:
I'm sorry I'm not shocked Corrine was involved! Not saying she is the only one to blame but cmon, have some class. Then again, even on the Bachelor she was classless so this doesn't come as surprise!!
And the hate doesn't just stop on Instagram. People have also taken to Twitter to shame Corinne.
Of course, some users had the decency to stick up for Corinne.
While we still have no idea what happened between Corinne and DeMario during filming, to jump to conclusions by immediately blaming her for whatever might have transpired is absolutely wrong and uncalled for.