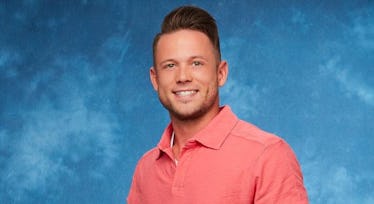 'Bachelorette' Contestant Lee Got A Rose And Twitter Is So, So Pissed
ABC
The Bachelorette contestant Lee Garrett has gotten his fair share of Twitter attention as of late – but it's been mostly negative. Like, really negative.
Elite Daily predicted Lee would be this season's villain early on (based on previews and horoscopes), but the negative attention he's receiving on Twitter is a lot, even for the "villain."
Lee Garrett is a 30-year-old singer/songwriter from Nashville, Tennessee.
A couple weeks ago, HuffPost uncovered some seriously controversial tweets, which have since been deleted, and Twitter was absolutely not here for it.
In addition to reportedly calling out Black Lives Matter as a terrorist organization and implying all feminists are "ugly," Garrett reportedly wrote a tweet comparing Hillary Clinton to O.J. Simpson.
Once the tweets were brought to light, Bachelor Nation immediately called out ABC for its casting decision.
So the fact that Lee Garrett is still an eligible bachelor competing for the love and attention of Rachel Lindsay is not sitting right with fans. After Garrett wasn't eliminated during the rose ceremony at the beginning of week four's episode, Twitter erupted.
Some think his presence means the show is "staged," and he'll stick around just because he's fun to hate.
And a lot of people are just waiting for his "racist" ways to come out on national television.
Others are just pissed guys who are, seemingly, way less controversial are getting sent home.
After he cut Kenny off in this week's episode, a lot of people are just waiting for a huge brawl to break out.
In short, viewers are ready for Lee to go home.
On Monday night's episode, Diggy was the only contestant to be eliminated, so as of now, Lee is still a contender -- even though Rachel did call him out for calling her "ma'am."
As tension continues to rise among the men of the house, it seems likely Twitter (and Kenny's) dislike of Lee Garrett will only grow.
We'll have to tune in next week to see if Rachel uncovers another side of Lee.