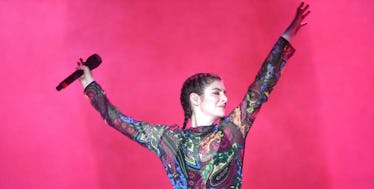 Lorde Dropped Her New Album And This One Song Will Be Your Summer Jam
C Flanigan/Getty Images
LORDE'S NEW ALBUM IS HERE!!!! Melodrama IS HERE!!!! IT. IS. HEEEERRRRRREEEEEEEE.
I like Lorde. I like Lorde a lot. Lorde's new album has brought new life into my soul.
This sophomore album is SUBLIME, and it's welcomed with open arms after the long 3-plus years we waited.
Your fans thank you for this, Lorde.
The internet has combusted, and not spontaneously. This is previously scheduled combustion. Lorde set it up. We marked it in our Google calendars. Then everything ended right on time.
Lorde herself took to Twitter to talk about her love for the new album.
AND SHE ANNOUNCED HER MELODRAMA TOUR!!!!
Signed, sealed, delivered -- I'm dead. And my dead a** will BE at one of those concerts.
But what a lot of fans are loving most about the Melodrama music is the very last song on the album, "Perfect Places." The song was released on June 1 ahead of the full album release. "Green Light" and "Sober" were also released as singles before the album dropped.
Here are some of the lyrics:
Every night, I live and die Feel the party to my bones Watch the wasters blow the speakers Spill my guts beneath the outdoor light It's just another graceless night I hate the headlines and the weather I'm nineteen and I'm on fire But when we're dancing I'm alright It's just another graceless night Are you lost enough? Have another drink, get lost in us This is how we get notorious, oh 'Cause I don't know If they keep tellin' me where to go I'll blow my brains out to the radio, oh All of the things we're taking 'Cause we are young and we're ashamed Send us to perfect places All of our heroes fading Now I can't stand to be alone Let's go to perfect places
HERE FOR IT, LORDE.
Fans love it so much, they can't stop tweeting about it. And what's more, critics have already said Melodrama is the best pop album of 2017 so far. OF COURSE IT IS.
Welcome back, Lorde. You did that.