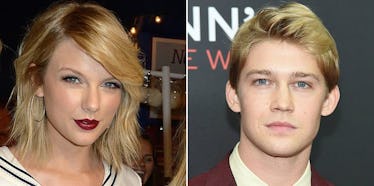 Taylor Swift's Flirty New Song May Be About Her BF Joe Alwyn
Neilson Barnard/Getty Images for Tommy Hilfiger/Jamie McCarthy/Getty Images
Taylor Swift is back and better than ever, y'all. The artist just dropped her second song since her comeback on Saturday, Sept. 2 called "Ready For It" and it's super flirty. The song was a complete surprise to fans, and it dropped in the middle of the No. 1 Alabama versus No. 3 Florida State college football game. "Ready For It" is a definite switch-up from the artist's "Look What You Made Me Do" vibe, and Swift sings about sex... oOoOOo! So, is "Ready For It" about Joe Alwyn, Swift's boyfriend? Elite Daily reached out to Swift's team for comment, but did not hear back by the time of publication.
As Swift fans know, the singer was first connected to British actor Joe Alwyn in May 2017. They've been keeping things super low key -- so low key, in fact, that neither half of the couple have spoken to media about the relationship at all. Paparazzi have photographed them together, though, and Swift's BFF Selena Gomez commented on their new relationship. She told Sirius XM's Morning Mash Up,
Honestly, if my friends are happy, that makes me happy. That's all I care about. So, I'm super stoked, too. It's been a good time.
SO, back to the song. The lyrics are definitely sexual. Taylor sings,
In the middle of the night In my dreams You should see the things we do, baby (We do, baby) In the middle of the night In my dreams (My dreams) I know I'm gonna be with you So I'll take my time
We obviously don't know for sure, but it would definitely make sense if the song was about Alwyn. We know Swift has been working on her comeback for some time now, and Swift and Alwyn have been connected since earlier this year. And, things between them have been going great. A source told People earlier this week,
Her decision to keep her relationship with Joe quiet is making her happy ... They have been getting to know each other slowly without any pressure.
Maybe once Swift gets on the road to perform these songs, we'll finally see her and Alwyn in public together? We can only hope.