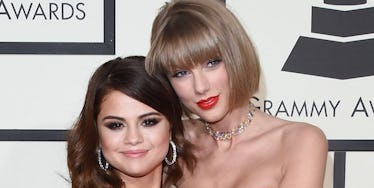 Selena Gomez Was Asked About Taylor Swift's New BF And Her Answer Is Everything
Jason Merritt/Getty Image
Selena Gomez was one of the original Taylor Swift squad members.
For a while, the pop singers were the definition of #friendshipgoals, but in recent months rumors have swirled the internet about a possible falling out.
A lot of the speculation had to do with Selena Gomez's new relationship with The Weeknd, which is admittedly a bit complicated as it relates to the T. Swift squad.
You see, model Gigi Hadid is also a confirmed squad member and her little sister, Bella Hadid, broke up with The Weeknd just a couple months starting his new romance with Selena.
Uhhh... awkward.
No one is questioning the Hadid sisters' loyalty to the 1989 singer, especially since Swift collaborated with Gigi's boyfriend, Zayn Malik, for "I Don't Wanna Live Forever," which is why the rift rumors centered around Gomez.
But now, it definitely looks like the internet was, once again, trying to make something out of nothing.
In an interview with SiriusXM's Morning Mash Up, Gomez talked about her relationship with The Weeknd and also chatted about pal Taylor Swift. She even opened up about Swift's new boyfriend, Joe Alwyn.
OK, I use the term "opened up" kind of loosely. Gomez didn't deny her friend's new relationship, but her response really just proves the singers are still tight -- and tight-lipped when it comes to each other's personal lives.
Referring to her friendship with Swift, radio host Nicole Ryan prompted,
Both of you have some new things going on in your lives. You have some new people in your lives. Have you gotten a chance to hang out with each other and your new people?
Laughing, Gomez quipped,
I hang out with my new person a lot.
She continued,
Honestly, if my friends are happy, that makes me happy. That's all I care about. So, I'm super stoked, too. It's been a good time.
Now that's the response of a good friend. Gomez is obviously happy for Swift, but don't expect her to go spilling the beans on her pal's relationship, which Swift is clearly trying to keep way more private than her last.
While Swift and Alwyn were recently spotted hanging out in Nashville, the pair has yet to openly address their relationship.
On the other hand, Gomez and The Weeknd have not been shy about their love.
Speaking about hanging out on tour with The Weeknd, Gomez gushed,
I love being supportive. I love just being there and having somebody's back. It feels good. I haven't had that feeling in a while.
You can listen to part of Gomez's interview below.